Colours can transform a house into the home of your dreams. Choosing the correct colour is extremely important for the overall design of your home. The paint colour combination you choose for the interior and exterior of your home has a significant impact on your daily life.
Different colour combinations work for different people. While one person may prefer an all-white monochromatic and minimalistic look, the other person may go for a deep red with brown to create a rustic and homely vibe.
Colour selection is a personal choice which is influenced by various factors. It depends entirely on the homeowner to make a choice they are comfortable with.
This article deals with the best home colour ideas and combinations. Read along to understand how colour psychology and colour wheel impact the different areas of the house.
Home colour combination   
Colour wheel theory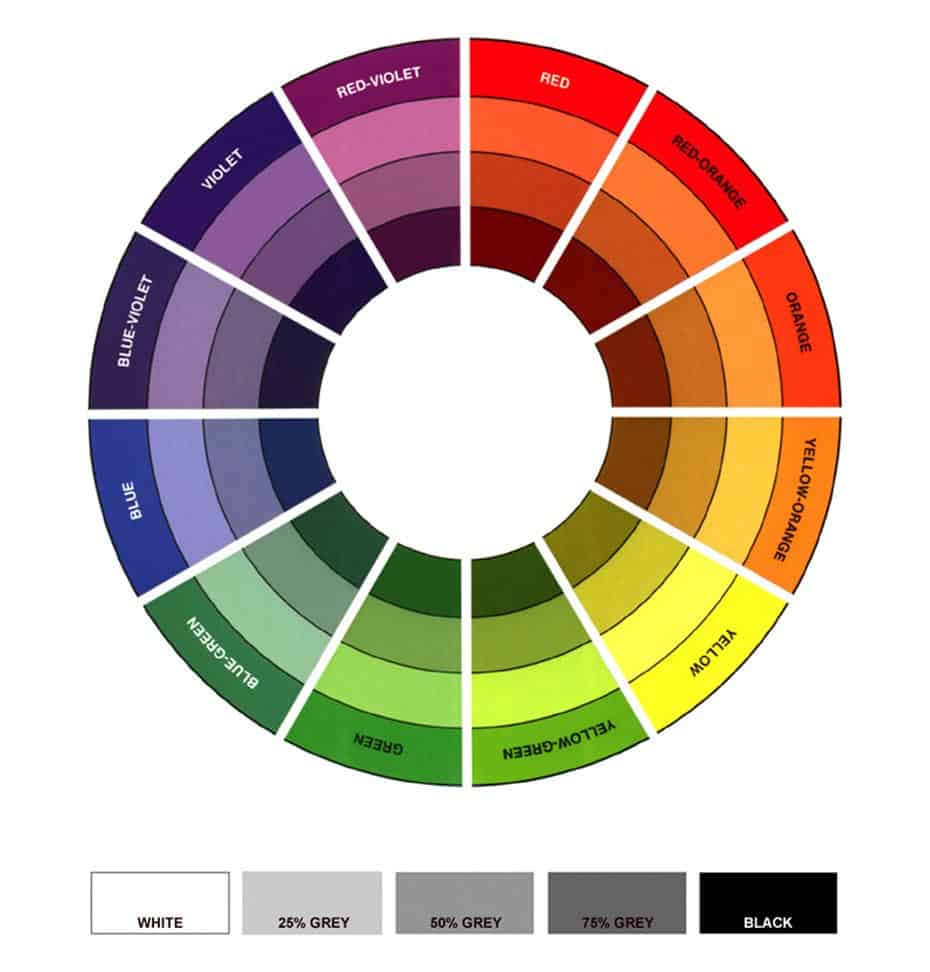 Image Source: Big Beed Little Beed
The colour wheel is an arrangement of colours and their hues according to their wavelength. The colour wheel consists of three primary colours: red, yellow and blue. Primary colours are mixed to derive secondary colours namely green, violet and orange. Tertiary colours are derived by combining equal parts of a primary and secondary colour,  like blue-violet, red-violet, red-orange, yellow-orange, blue-green and yellow-green. You also get opposite pairings known as complementary colours which are red and green, yellow and purple, and orange and blue among others. The colour wheel helps in creating a suitable colour combination for your home. You can select paint colour combinations for your home from the colour wheel.
Colour psychology for the home
Colour psychology is a study that shows how colours affect human behaviour. Warm colours like red, orange and yellow exhibit emotions like comfort, love and warmth whereas cool colours like blue, green and purple are calm and soothing. It is widely believed that colours in our home influence our mood and therefore our lives. Every colour denotes a certain emotion. You can match the colour with how you want the room to look and feel and also with the design of your home. Colour psychology is also taken into consideration while selecting the outside wall colour of a home.
Trending home colours and design ideas 
White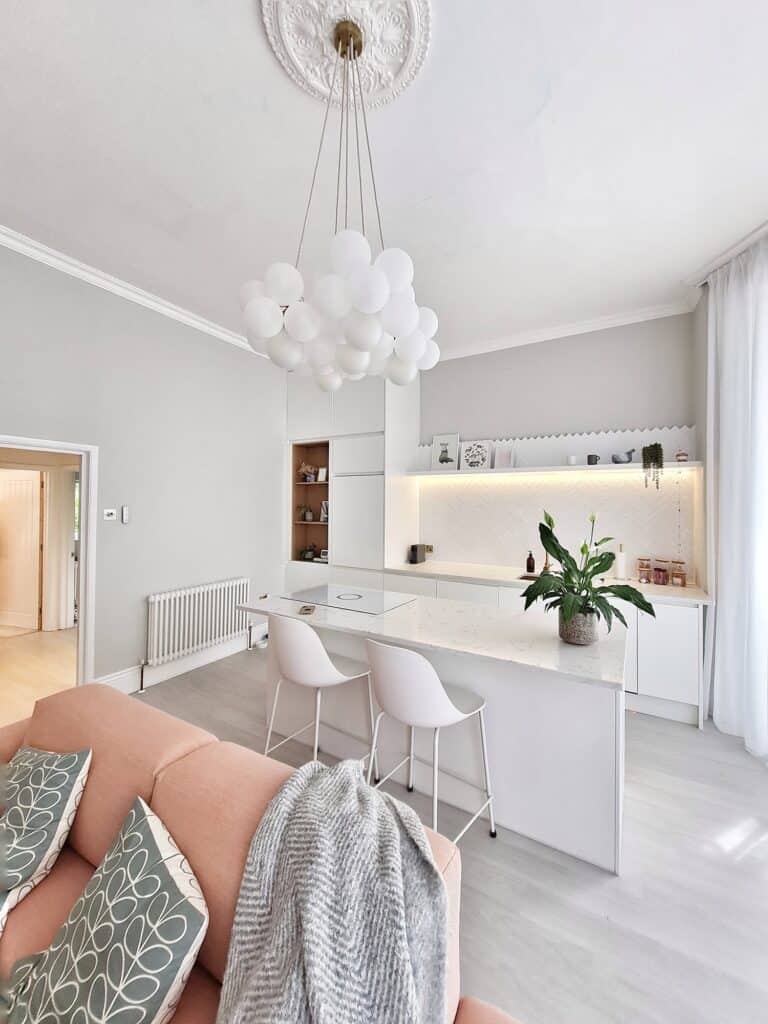 Image Source: The White interior Design Studio
White is often the most popular colour in home interior design. It is the perfect mix of elegance, sophistication and versatility. It gives the space a crisp fresh vibe. Also, it provides a clean slate to the designer and is not only minimalistic but also classic and timeless. It creates an illusion of space and acts as a perfect backdrop to work around. It maximises the use of natural light and helps in enhancing the effect of artificial lighting. The white colour also helps with the styling of decor accessories and helps them stand out. This colour is also a common choice for the outside walls of the home.
Blue
Image Source: That Scandinavian Feeling
The blue colour in the home interior design adds a cool and classic aesthetic. It can be the focal point in a room when used with a neutral colour. Also, it can add depth to an all-white space and the combination of blue and gold is considered a match made in heaven. This primary colour is easy to style. While this colour does not belong to a particular era, it can be both contemporary or classic in its approach. Choosing darker shades of blue helps in preventing the furniture from looking too bulky. The blue colour in combination with white is commonly used for the outside walls of a home.
Orange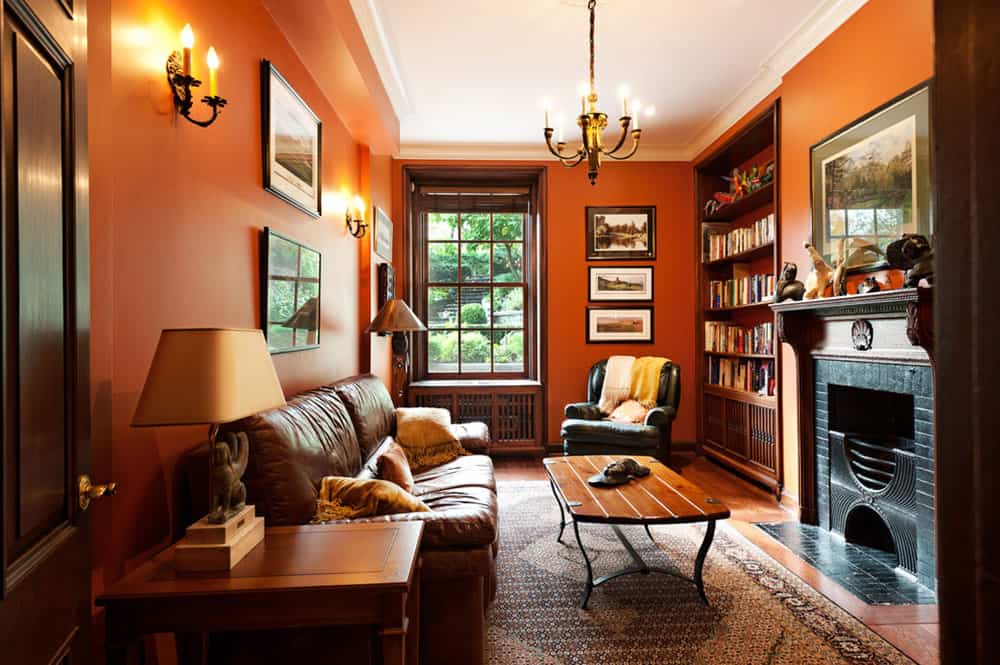 Image Source: David Giral Photography
A pop of orange colour in home interiors can create a vibrant and engaging vibe. A warm colour nestled between yellow and red on the colour wheel, orange is also the colour of autumn. It can be contemporary or eccentric depending on the different tones used. Generally, it is used to add drama and as an accent. Orange works well with white to create a soothing colour combination. It can be used with brown colour to give a cosy vibe to the home design.
Pastels
Image Source: Latelierkauldhar
Pastel colours are everywhere when you look around. From blush pinks to baby blues, magic mints, rose tans, soft lavenders and pale mauves the list is endless. These colours have been associated with happiness, serenity and peace. Pastels can be paired with white and added in the form of furniture or accessories. Also, the shades can be used as accent colours. Using a pastel paint colour will give a soothing vibe to your home.
Red
Image Source:  Bougainvillea Design Studio
Red is a powerful colour that can add warmth and drama to a space. This colour is associated with love, romance, passion, good fortune, fertility and elegance. The red colour is often used to create a stunning impact on interiors. It works well with neutral colours like white and grey to create a retro and cosy look. Red when paired with gold is royal and majestic. It complements wooden finishes to create a rustic look. The emerging trend is to add a touch of red colour to the outside walls of a home.
Grey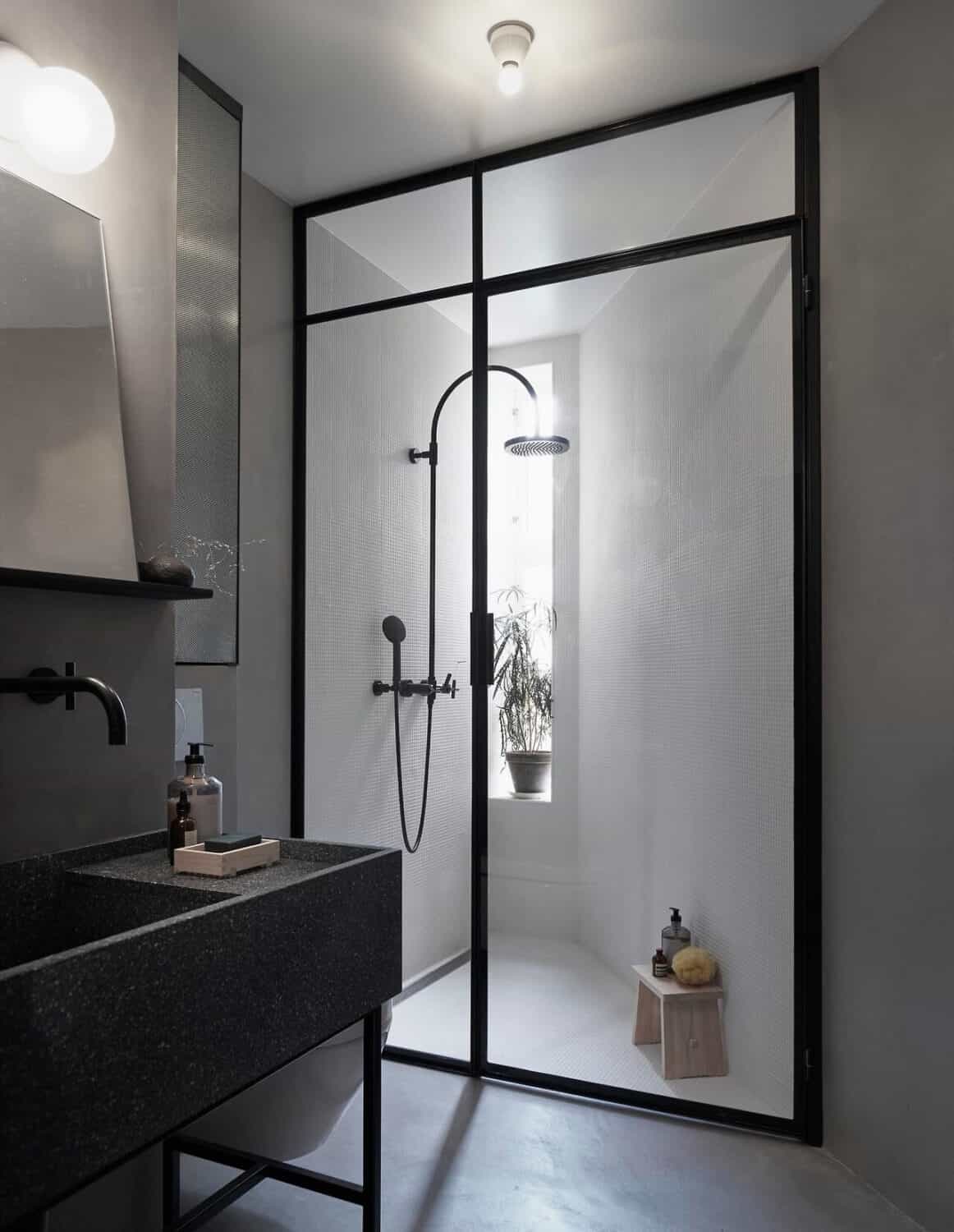 Image Source: Magnus Marding
Grey colour has become a popular choice with homeowners and design professionals. Grey is a versatile neutral colour that helps in making a place look spacious and airy. It creates a soft palette that acts as a cocoon in the winter months. It helps in giving a sophisticated and unobtrusive look to a place. Light grey colour when used in combination with white looks chic and functional. Using grey with beige or brown gives a warm homely feel. Grey is commonly used as an outside wall colour for our home in modern times.
Metallic
Image Source: Boca Do Lobo
Using metallic colours in your home can make it sparkle and glamorous. A touch of gold, silver and rose gold adds shine and shimmer to a space. These luxe metallic textures transform a space making it look royal and majestic. Emerald green, soft pink, red and blue complement the golden colour. Metallic colours go well with marble and can be used in decor items. If balanced well with simple furniture pieces, they can become the talking point of the interiors.
Purple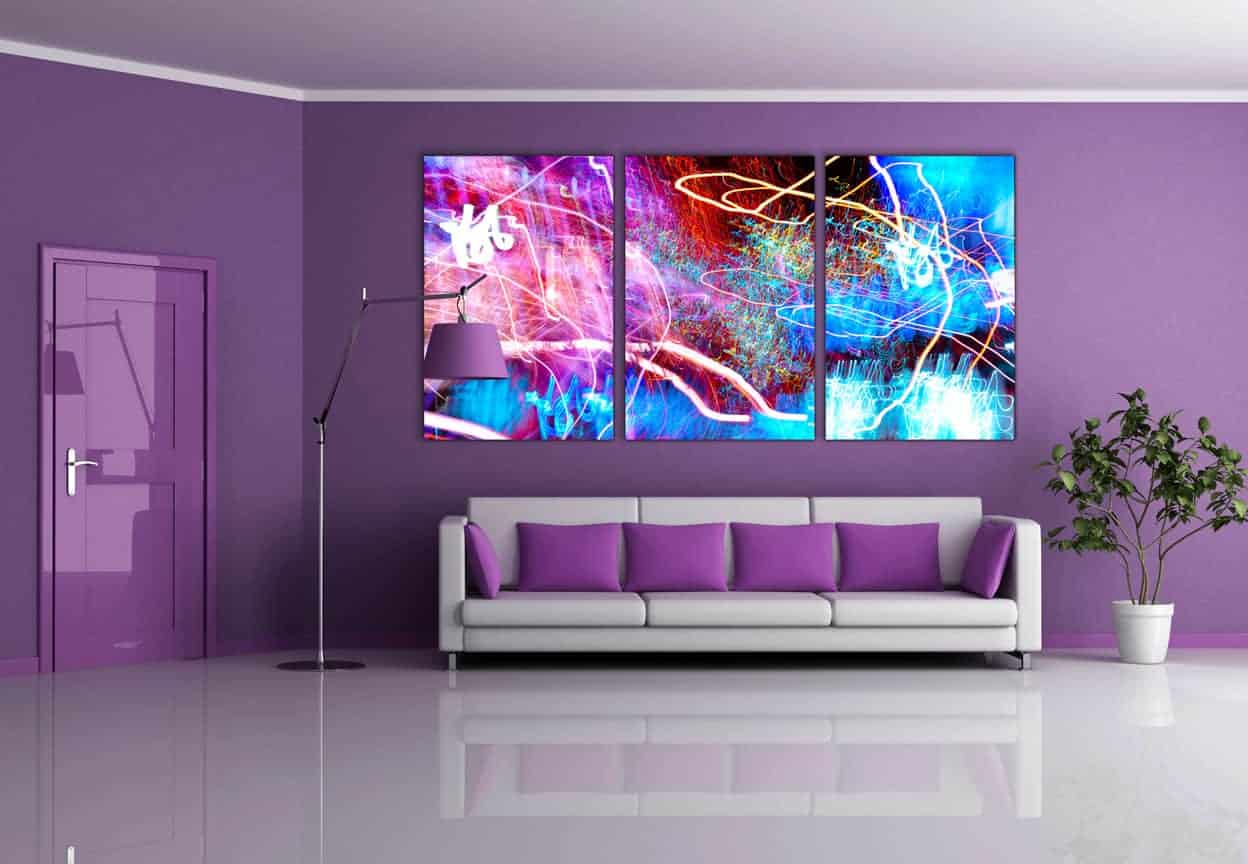 Image Source: Treehouse
The purple colour gives a royal and creative feel to a home design. A combination of blue and red, it can be dramatic or subdued as per its use. Purple denotes power and wealth. Purple goes well with whites and greys to create a style statement.
Yellow
Image Source: Style By Emily Henderson
A splash of yellow can create feelings of joy and cheerfulness. Using yellow in interior design is often considered a designer's trick as it immediately lightens up a space. The colour of flowers and sunshine, yellow goes well with neutral colours. Vintage yellow looks eclectic and adds drama to a space.  Yellow colour is a mainstay in Indian kitchens and dining rooms as it is said to mentally stimulate appetite. Yellow colour is used for the home exterior as well.
Green
Image Source: Her Zindagi
Green is generally associated with growth, freshness, prosperity and harmony. The colour of forests, green has a raw aesthetic to it. Tranquil and soothing, this colour can look royal and stunning when paired with gold. Green when paired with earthy browns, suave greys and cool whites can look refreshing and grand. Painting your home in green colour is said to relieve stress.
Home colours for different zones  
Home colours for the bedroom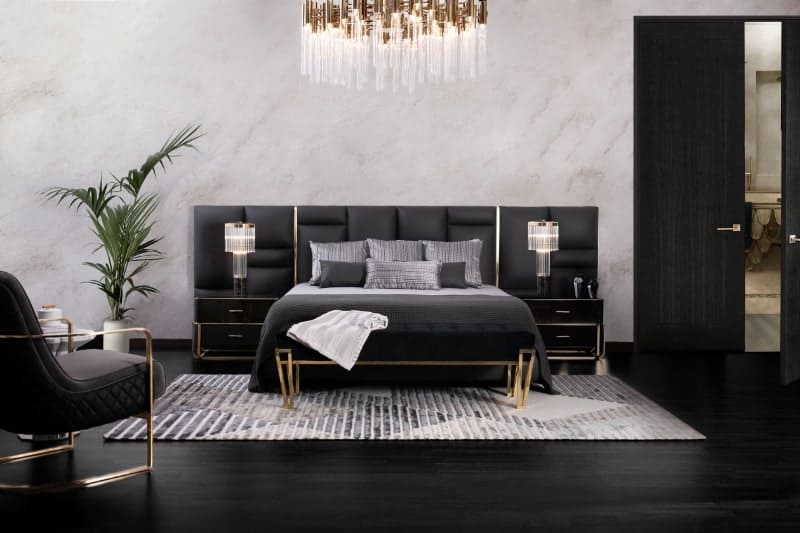 Image Source: Boca Do Lobo
The bedroom is the place where one spends the most amount of time when at home; therefore, the bedroom colour selection must be correct. A bedroom should look relaxing and peaceful. You could choose the classic combination of white with wood and add colour through furnishings and accessories. Grey colour used in combination with off-whites and pastel hues looks lovely in a home. Monochromatic paint colour in the bedroom when balanced properly with furniture adds the wow factor to a home. Blue, green, soft pink, white, red and beige are considered the best colours for a restful sleep.
When you have a small bedroom you can go for lighter colours like white and pale grey as they make a room look bigger. If you want to add colour you can create an accent wall with a darker colour. If the bedroom does not receive abundant natural light you can use bright colours like orange, yellow and pink to brighten the room.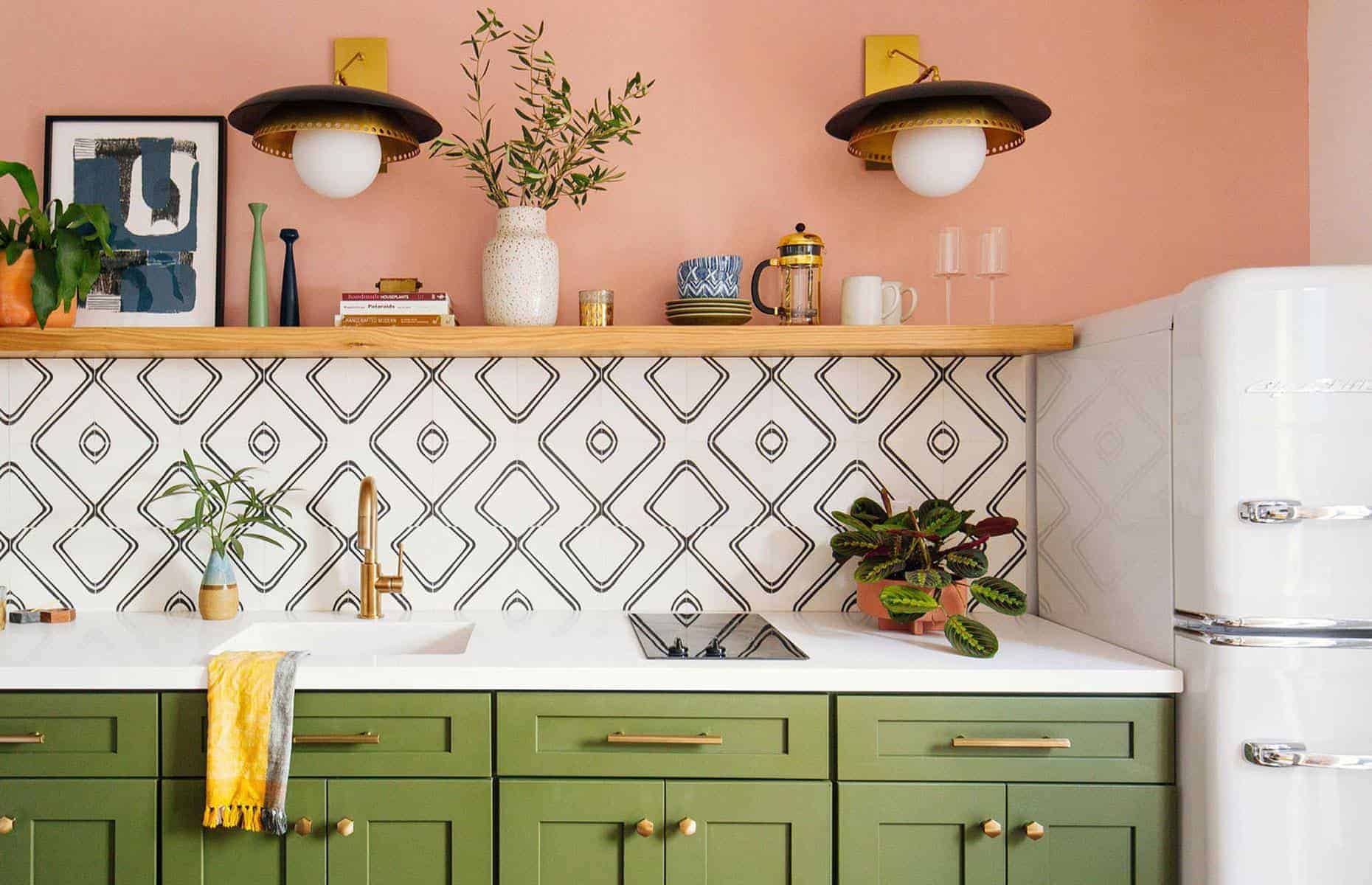 Image Source: Loveproperty.com
Kitchens today are designed in such a way that not only do they serve their purpose of cooking, but are also stylish. While designing a kitchen one can go for a neutral palette with metallic finishes. You can also use a combination of warm and cool colours for the home kitchen. Wood finishes are also trending. Two-toned kitchen designs are a blend of two different shades for the base and the wall cabinet. The colour of the appliances also plays a role in kitchen interiors.
Most kitchens receive some amount of natural light, so you can use white, yellow, orange, and red among other colours to add more depth to the kitchen. Even if the kitchen is small, a well-designed layout and cool colours such as white, lighter shades of yellow, pink and grey can make the kitchen look bigger.
Home colours for the living room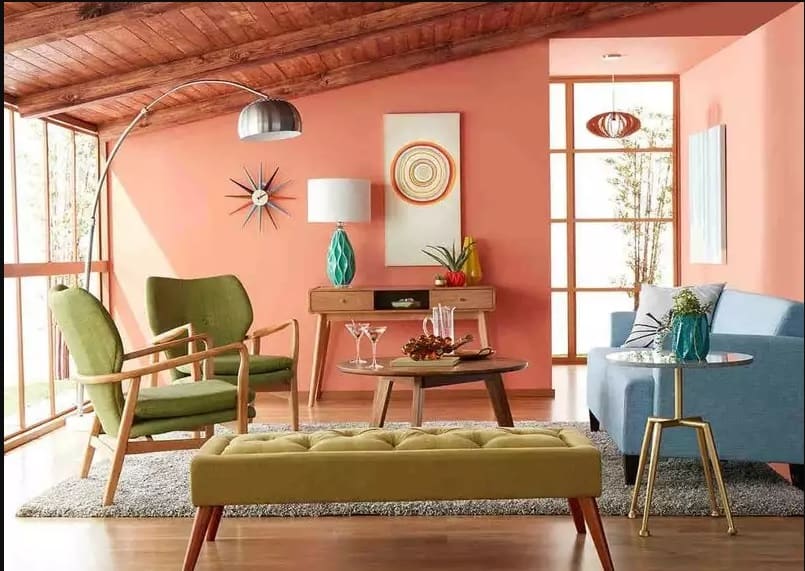 Image Source: Times of India
The living room is a place where the family hangs out and entertains their guests. Modern living rooms often serve as the showstopper in home interiors, so while designing the living room one can use subtle pastel colours and add layers in the form of patterned furnishings. Monochromatic colours are quite fashionable when it comes to living room decor. Warm colours add a cosy vibe to the living area and using them in combination with beige, tan and gold gives a lively feel to the home. A splash of red, a touch of vintage yellow, emerald green and white, and eclectic blue are some of the home colour ideas that can brighten the space. A popular option in the contemporary world is a minimalistic all-white living area which is a classic and chic combination.
Natural light adds warmth and cosiness to a room, so even if you have less natural light you can use lighter colours like white, beige or ivory to reflect more light and brighten the visual space. The best colours for a small living room are pure white, cream, yellow, light grey and dark blue. Dark blue can be used as it creates the illusion of enlarged walls. For a larger living area, you can use darker colours like purple and navy blue with warm undertones as it gives a cosy and comfortable feel to the space.
Home colours for the dining room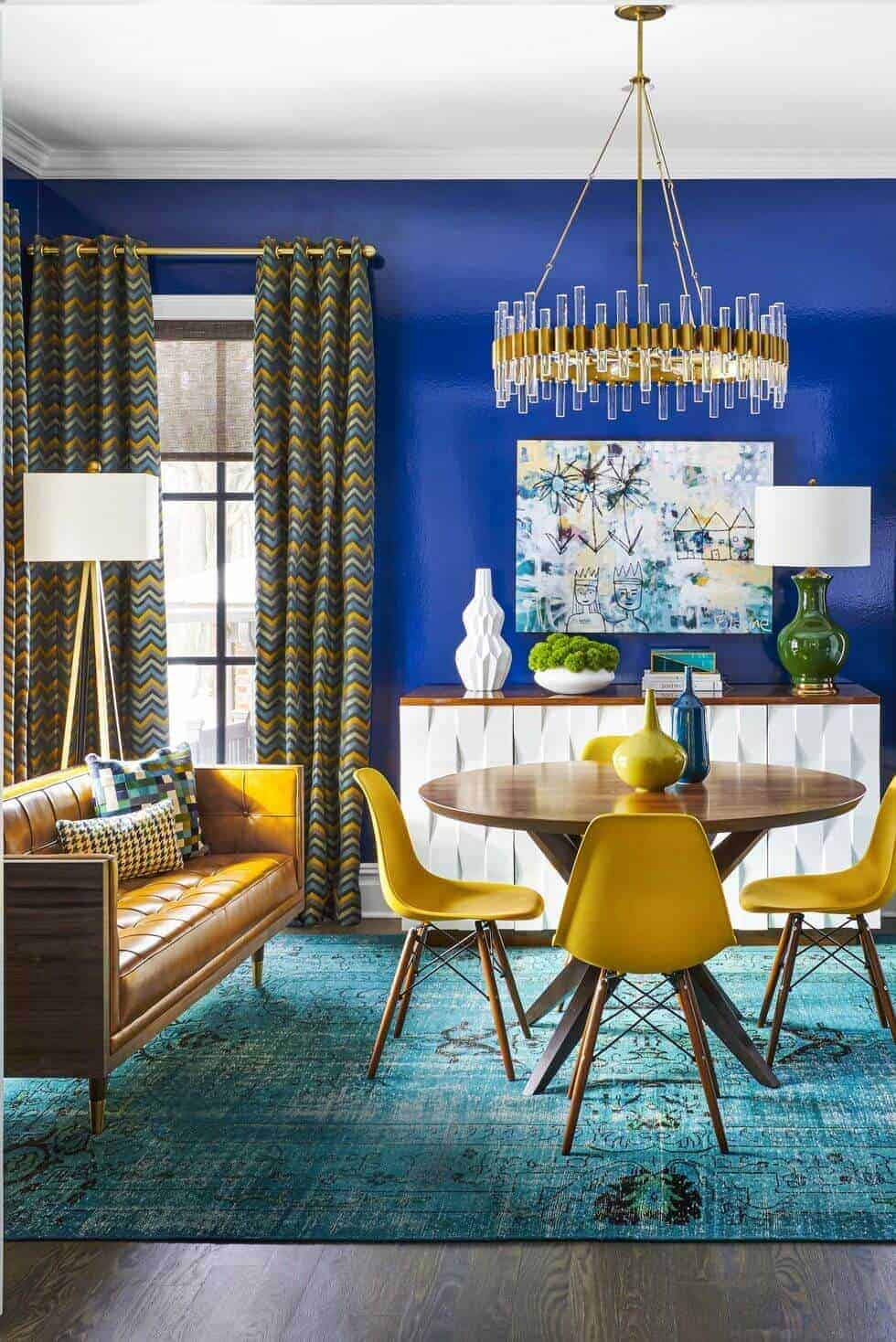 Image Source:  Hommes Studio
The dining space is one of the most used spaces in a home. Thus, it is pivotal that it is a comfortable and well-designed area. The dining room plays host to family gatherings and dinner parties. The colours for the dining room interiors can be a blend of earthy neutrals like beige, brown and grey and vibrant shades like yellow, blue, red and green. Also, offbeat choices like pink and purple balanced with white are popular. The most commonly used colours are yellows and oranges as they are said to mentally stimulate appetite.
Most dining rooms generally don't have access to sunlight. Therefore, it is necessary to use a mix of neutral hues like white, beige and light grey with bright colours like yellow, orange and green to make the area look bigger. You can use jewel tones like gold and silver in larger dining rooms to give them a royal look and when used with darker colours like emerald and blue they add warmth to a space.
Image Source: Covet House
Most urban bathrooms are small in size. Therefore, it is important that the colours that are chosen for a bathroom be such that they create an illusion of space. The most popular choice is white which makes a bathroom look open and airy. A cool blue gives a crisp look to a bathroom. There is no other colour which is as glamorous as black. Many powder rooms use an exquisite combination of pink and gold. Yellow feels like sunshine and adds a cheerful vibe to a bathroom. Greens added in the form of paint or plants give a fresh feel to the bathroom.
Most bathrooms lack natural light so you have to use colours which will enhance the artificial lighting used in the bathroom. Blue and white are generally the favourite colours to reflect light. If you have a small bathroom you can use light grey, beige white, pale blue and deep green to make the bathroom look larger. If you have a large bathroom you can create a palette of light and dark colours to add a glamorous look to the bathroom.
Best colours for the home office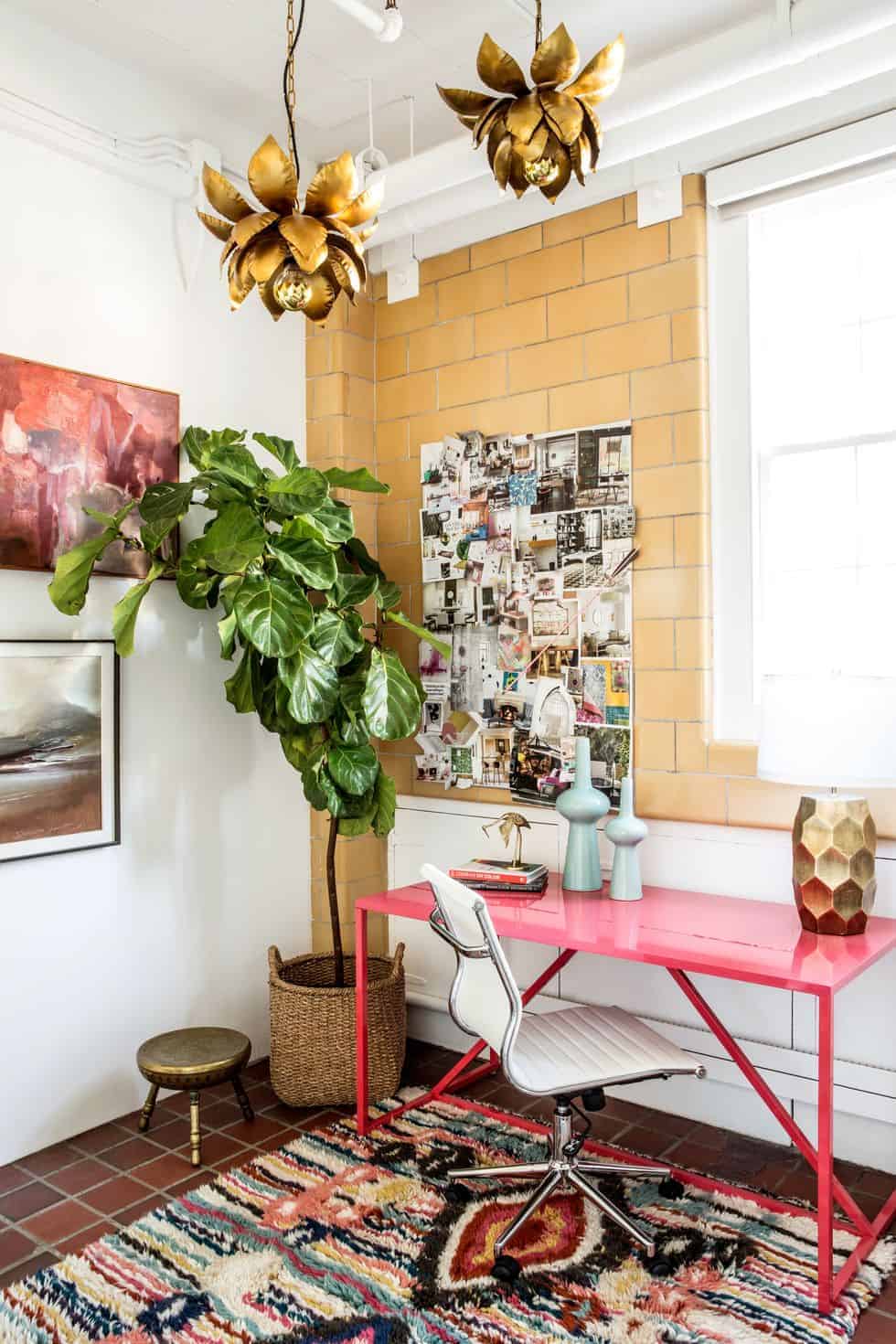 Image Source: Oprah Daily
While home offices were an emerging trend since the beginning of the 21st century, they have become an absolute necessity in the post-pandemic work-from-home era. A dynamic colour combination can brighten the home office. Neutrals when used with the right mix of decor items and furnishings can be appealing. Greens and blues add a cool aesthetic. Black and white look minimalistic and sophisticated. Using patterns with grey gives an eclectic feel to the space.
Using white paint colour is a good option to make a small home office look spacious and open. Warm shades like light brown and taupe make the place look cosy while making it look larger. Since most home offices are created in nooks or spare rooms, natural lighting is generally scarce. In these scenarios, you can use colours like aqua, yellow, leafy green and white to optimise the use of available light.
Home colours for the foyer
Image Source: Pinterest
The entryway or the foyer of a house should be elegant and jazzy. It is generally a transitional space which opens into the living area. While neutrals like white, grey, beige and black are the most popular choices, one can go with an electric purple, royal red, blush pink, navy blue and mauve among other options to make a style statement. Adding metallic detailing with gold, silver, copper or rose gold will give a luxurious look to the space.
In case your foyer does not get enough natural light using colours like white, beige, pale yellow, and light pink paired with good sources of artificial lighting makes the entryway look cheerful and welcoming. White, grey and wood colours look elegant in smaller foyers, whereas purple, metallic colours and red make large foyers look compact and cosy.
Best outside home colours
Image Source: Nerolac Paints
Picking the right colours for the outside walls of our home is as important as picking the colours of our home interiors. The colour of the home exteriors should be such that it grabs the attention of people at once. Paint companies in India have launched numerous collections by following this emerging trend. Various waterproof, weatherproof, anti-dust, antibacterial and antifungal home exterior paint colours are now available. The exterior paint must be sturdy, durable and of high quality. 
White is a favourite outside home colour as it creates a serene and pristine atmosphere and it helps keep the house cooler. Blue-grey, light pink, pale yellow and leafy green exterior colours are used for homes. Cream and brown are classic colours for the outside which give an earthy and rooted look to the home. Blue and white, red and beige, and yellow and green are other perfect combinations to give home exteriors a welcoming look.
Tips to select the best paint colours for home 
If you are wondering how to choose the best colours for your home, here are some easy tips to help you select the best shades that work for you:
You should choose a colour combination from the colour wheel theory as

the colour schemes are well-balanced.

For example, you can choose an analogous colour scheme which comprises three colours adjacent to each other on the wheel and when used together they create a harmonious look to the home design.

One should follow the rule of three, which states that a maximum of three colours should be used in a room. It is advised to follow the 60-30-10 ratio which says that you should use 60% of the dominant colour, 30% of the secondary colour and 10% of the accent colour to achieve a flawless blend.

Have a coveted art piece? Colours can be chosen from there as most painters are also masters of colour.

One of the most important steps to select the paint colour for your home is doing a sample test. Most companies offer sample paint sizes so that a small area can be tested without having to redo the entire wall.
Colour selection depends on the dimensions of the space. You cannot pick dark colours for small spaces as they will make the space look smaller whereas using white and similar light colours in a small area creates an illusion of space. If you like dark colours, you can make an accent wall with them and balance it with white on other walls.
Home colour combination ideas with colour palettes
Conclusion
Colours can make or break a space. A homeowner's tastes and preferences as well as the emotions each colour portrays help in finalising the colour combinations of space. You can see how colour wheel theory presents various options to choose the perfect room colour combination. You can choose from monochromatic, complementary and analogous colour schemes.
Colour psychology is a means of creating a specific atmosphere or mood. Every hue invokes a specific feeling. It is a powerful tool that impacts the mood of the room. It is important to consider the atmosphere you wish to create and then choose the colours which will help you achieve that.
Different colours create different effects in home interior design. You must choose the correct colour according to the look you want to achieve. The paint colour selection also depends on the dimensions of the home and the natural light available.
Colours bring a different vibe and ambience to each room. Creating rooms with fresh bright colours energises and boosts your mood while using cool colours creates a calm and soothing effect. You can go for outside wall colours like white, light brown, grey, green, pale yellow and blue, to give a welcoming look to the home.
You should choose the right colours for your home as it is the most influential and fundamental aspect of interior design.
Now that you have all the necessary information and inspiration for choosing the best home colours, you can go all in and paint your home in beautiful hues.
*The featured image used in the article is from Boca Do Lobo
[vvsmustread]