When it comes to adding a wow factor through lighting fixtures, nothing can beat the statement created by chandeliers. This decorative light becomes the talk of the room and sets the mood of the entire space. Also, hanging light elements like crystal chandelier lights for the living room amplify the aesthetics of the room.
However, choosing a designer crystal chandelier just because it looks beautiful and appeals to your eyes won't be the best thing to do. There is a lot to know about chandeliers from their history to designs, styles, and selection guidelines.
A chandelier is a branched lighting fixture designed exclusively for ceilings. Also, the use of chandeliers can be dated back to medieval times when candles were the light source of this lighting fixture.
The meaning of chandelier more or less remains the same. But, they have only advanced in terms of technology, design, and style.
Fun fact: Dolmabahçe Palace in Istanbul has the world's largest chandelier with 750 lamps.
Often, people confuse chandeliers with pendant hanging lights. But, both are quite dissimilar. Also, a pendant usually has a single stem whereas, a stylish crystal chandelier means a decorative ceiling light with a branched body.
There is nothing like a right chandelier or a wrong chandelier. Thus, all of that depends upon the setting of your room and your lighting requirements.
For instance, a modern chandelier for living room with antique interiors can be a major turn-off. At the same time, the chandelier hanging lights play an important role in the selection as well.
So, let's find out the different types of crystal chandelier lightings based on the following parameters:
The chandelier designs come in various exciting options.
Modern chandelier designs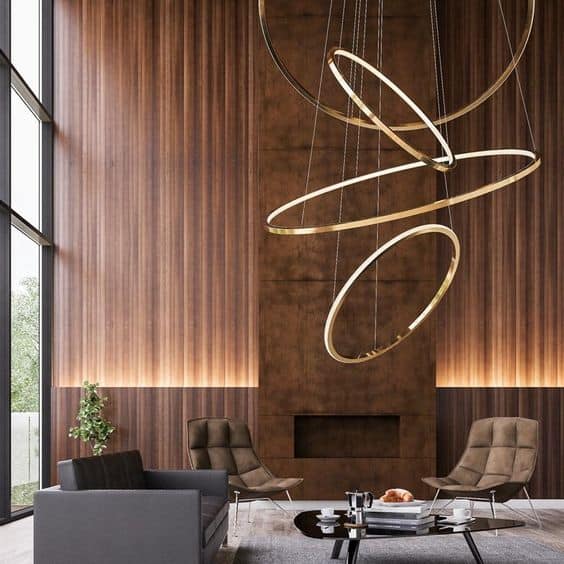 Image Source: interior deluxe
Modern chandeliers give futuristic vibes. Also, they have crisp edges, beautiful shapes, and perfectly combine aesthetics with the digital age.
Also, they come in different shapes and sizes. So, modern chandeliers can be used anywhere from reception to bedrooms.
Crystal chandeliers for ceiling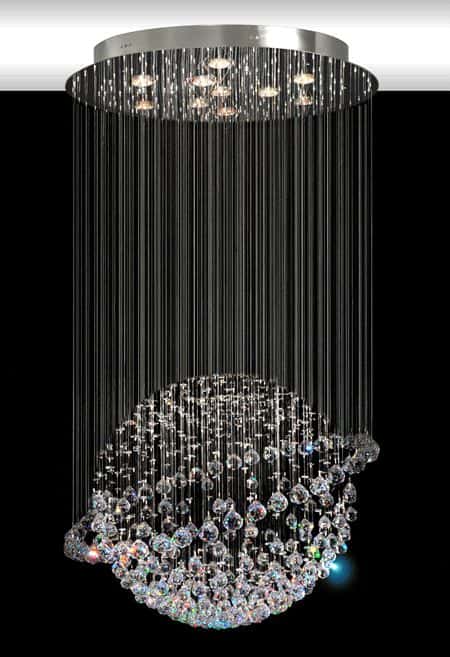 Image Source: Lumilandia
Crystal chandeliers take their name after the crystal material used to make them. Also, a crystal chandelier for ceiling can take many forms and create pure elegance in all.
The raindrop crystal chandeliers for ceiling make the most popular design.
Also, the crystal chandeliers can also be arranged in a spiral chandelier design which is ideal for stairways and big halls.
However, you must take note that the crystal chandelier design takes up a lot of space. So, avoid them if you have low ceilings.
Candle chandelier lights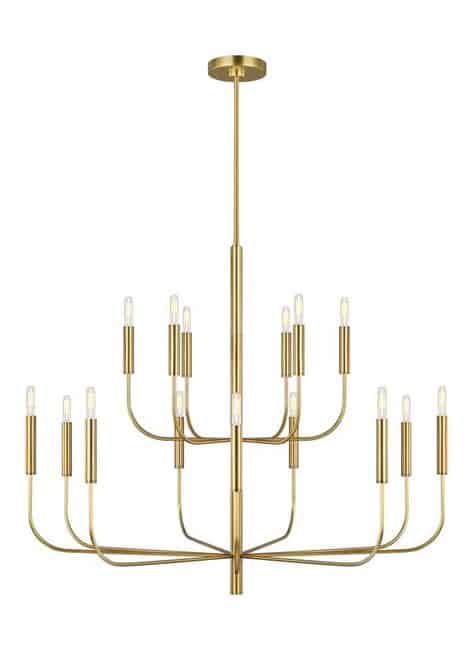 Image Source: Joss and Main
The most elite chandelier design would be candle chandelier lights. Also, these hanging lights take aesthetics back to their roots. Thus, each branch of these chandeliers for ceilings has a candle-light structure at the end.
Moreover, the candle chandelier lights are ideal for rustic settings.
Sadly, they don't make chandeliers with real candle lights anymore. But on the brighter side, they use LED chandeliers with a candle-like design that is more efficient and long-lasting.
Glass chandelier design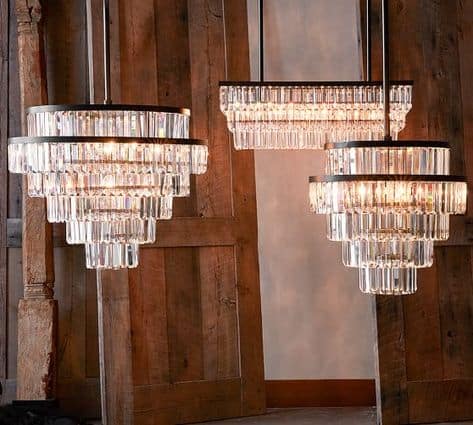 Image Source: Pottery barn
Another favorite chandelier design is the glass chandelier. Also, these chandeliers or hanging lights are widely sold in various shapes and styles. So, you can buy a chandelier online or offline with great ease.
Thus, given the variety of glass chandelier designs, you can use them in every setting comfortably.
Transitional chandelier design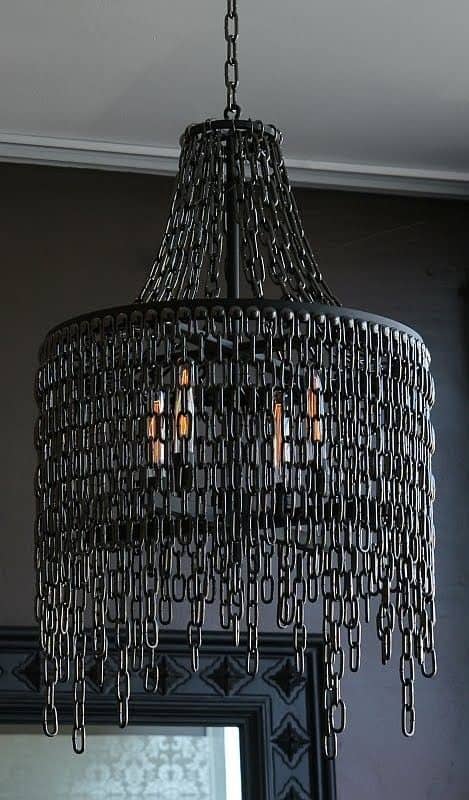 Image Source: idlights
If you like a blend of old and modern, the transitional chandeliers are the perfect decorative chandelier lighting options for you.
They have the uniqueness of modern design along with old-school elegance.
Also, the best thing about these chandeliers is that they go well in all traditional and contemporary settings.
Chandelier innovations 
In addition to various design options in these hanging lights, the chandeliers come with several technical variations as well. So, let's read about the two most important types of chandeliers based on technical functionality:
Fans with chandeliers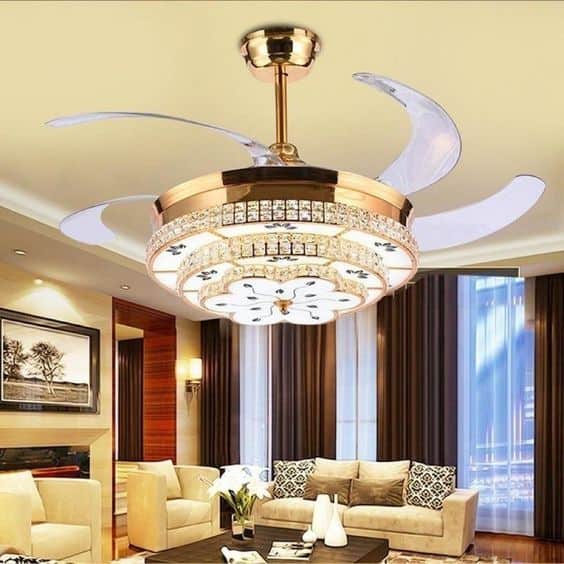 Image Source: My Aashis
Fans with chandeliers make ideal chandeliers for ceilings. Also, they serve two major functions required in every room-
Air circulation
Therefore, one can easily say that fans with chandeliers have the right balance of utility and aesthetics.
These fans with chandeliers, also known as 'fandeliers' work independently. So, you can operate them individually or as a unit both.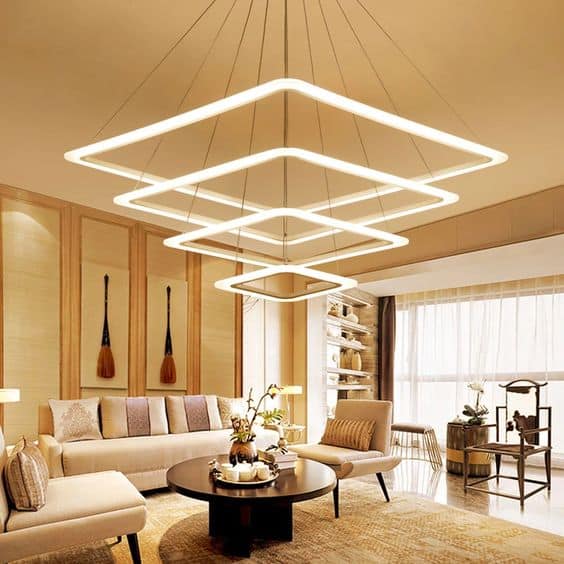 Image Source: Ray Pom
Chandelier lights are expensive decorative hanging lights. So, the use of multiple light sources in these chandelier lightings makes them the culprit of high electricity bills.
But, the emergence of LED lights has taken the lighting world by storm. So, all residential, commercial and infrastructural buildings are adopting LED lighting solutions to curb their rising electricity bills.
It comes as no surprise that LED chandelier lights are gaining wide popularity as well. With LED hanging lights for chandeliers, you do not have to compromise with the beauty of the lighting fixture. On the contrary, LED lights enhance the chandelier lighting by adding more colour and mood-setting options.
In addition to that, LED chandelier lights are eco-friendly and safer lighting solutions.
A perfect chandelier is one that enhances the room's settings, catches the attention of the occupants, and becomes the highlight of the space. But, an elaborate chandelier for a small room or an asymmetrical chandelier for ceiling with geometric designs would become flop shows.
So, you must consider the following three points before choosing your chandeliers:
Position of hanging lights
In an interior space, the chandelier light must be positioned at the centre. This must be done for three main reasons:
Aesthetics: The centre position allows a 360-degree view of the chandelier hanging lights.
Symmetry: When you install a chandelier in a room, it becomes the only suspended object in that space. Therefore, the hanging light must follow visual symmetry for a perfect look.
General lighting: A chandelier offers general ambient lighting. So, the hanging light must be positioned at the centre.
Hanging distance and chandelier height
The chandelier for ceiling must be at least 7 feet away from the floor.
So, if you are hanging a chandelier for ceiling above a dining table, it should be 30-36 inches away from the top of the table.
How to measure the chandelier's height?
Measure the floor to ceiling distance in feet.
Multiply it by 2.5
The result makes the approximate height for the chandelier piece in inches.
Example:
Distance between floor and ceiling= 11 feet
11 x 2.5= 27.5
Hence, the appropriate chandelier height for this room= 27.5 inches
How to measure the chandelier's diameter?
Calculate the length and breadth of the room in feet.
Add the numbers.
The result is the ideal diameter of your chandelier in inches.
Example:
Length of the room: 10 feet
The breadth of the room: 12 feet
Sum total:10+12= 22 feet
Hence, a chandelier with 22 inches diameter is an ideal decorative lighting fixture for you.
Chandelier lighting brightness
A chandelier offers three types of lighting:
Uplight chandeliers: The hanging lights focus upwards and reflect around the space.
Downlight chandeliers: Here the chandelier lights offer an unobstructed light. Also, if your room needs focused lighting, go for downlight chandeliers.
Ambient chandelier lighting: These aren't advisable for task lighting. On the contrary, they create non-direct ambient lighting for the entire space.
Additionally, in order to get the right amount of light, you must understand the number of lumens required for a specific room.
A kitchen needs 2000-4000 lumens of lighting.
The living room lighting must be 1500-3000 lumens.
The bedroom needs a total of 2000-4000 lumens.
So, this makes it quite clear that considering the lumen output of chandelier lighting also holds an important place when it comes to choosing the right chandelier lights for room.
Chandelier for spaces with low height
When buying low ceiling chandelier lights, consider the following points:
Don't go for dripping effects of the chandelier design. Focus on the details. Also, a semi-flush chandelier for small living room looks extremely beautiful.
Go for transparent pieces with white and cool hanging lights for low ceiling chandeliers.
Also, try to cover the ceiling space horizontally instead of vertical space.
Avoid dangling chandeliers.
Although the list of chandelier designs remains endless, we will try to make it easier for you to select a beautiful chandelier that suits your space with the following chandelier design ideas:
Chandeliers for living room
The chandelier for living room must be unique and capable of stealing the show. Also, a well-lit living room makes the mood of the entire house more cheerful. Therefore, the chandelier for living room must serve both aesthetic and functional purposes.
After measuring the size dimensions of the living room, also consider the setting and furniture of the space. The chandelier for living room must not overpower the center table. Also, it should go well with the furniture.
If your living room has modern interiors, go for an intricate modern chandelier for living room.
Moreover, pay attention to the predominant colour of your living room's interiors and then decide the base colour of your chandelier for living room.
Here are some ideas for chandeliers in living rooms:
If you want to buy a chandelier for dining room, decide its size based on your dining table's size.
Generally, the diameter of the chandelier for dining room must be ½ or 2/3 of the table's width. Also, consider rectangular modern chandeliers for dining room with long tables.
Here are some ideas for chandeliers in dining rooms:
Chandeliers for bedroom
While choosing the chandelier for bedroom, there are two placement options:
Center placement
Placing the chandelier for bedroom at the centre of the bedroom ceiling means placing it at the foot of the bed.
Over the bed placement
Another chandelier for bedroom position is over the bed. But, you need to take care of a few points in this placement location.
Also, the chandelier for bedroom must not be so huge that it overwhelms a smaller bed. Moreover, a tiny chandelier won't go well with a king-sized bed.
A chandelier for bedroom with 36 inches diameter suits a huge bed. Also, for a small twin-sized bed, go for a chandelier for bedroom with a diameter of 24 inches.
Here are some ideas for chandeliers in bedrooms:
A kitchen is made for a utilitarian purpose. Also, each element of the kitchen from the countertop to the appliances and furniture contribute to the functionality of the kitchen. So, the chandelier for kitchen must also enhance the productivity of the space.
The chandelier for kitchen must have a minimum distance of 30-34 inches from the tabletop.
Also, the diameter of the chandelier lighting fixture must be 1 foot less than the width of the countertop.
You can also install a mini-chandelier over the sink. Also, an island chandelier for room enhances its look and mood.
Here are some ideas for chandeliers in kitchen:
The chandeliers for bathroom make good decorative elements. Also, they add a touch of sophistication to the bathroom.
But, you must take care of certain details while buying chandeliers for bedroom.
Install a chandelier for bathroom if it is at least 100 square feet in size. If not, go for a pendant light or a small modern chandelier also known as a mini-chandelier.
If you want to place the chandelier for bathroom above the bathtub, ensure that it is at least 8 feet above it.
Also, you can hang the chandelier for bathroom in the middle of the room if the ceiling height doesn't permit you to hang it above the tub.
Here are some ideas for chandeliers in bathrooms:
Chandeliers for offices
Often people have apprehensions regarding the installation of chandeliers lights in office. Also, offices are professional places that do not entertain too loud decorative elements. So, pendant lights are a more common sight in offices than chandelier lights.
But, modern chandeliers come in minimal designs that can be comfortably used in offices. So, crystal chandeliers bring life to the monotonous office spaces.
Here are some ideas for chandeliers in offices:
Chandeliers for staircase
If your building has a two or more-story foyer with a staircase, you can install beautifully elaborate chandelier lighting.
The ceiling crystal chandelier for the staircase foyer must be at least 7.5 feet above the floor. Also, it should hang slightly lower than the top-most floor. This way, the crystal chandelier will be at your eye level when you are on the top floor.
Here are some ideas for ceiling chandelier for staircase:
Top chandelier manufacturers in India and chandelier prices
| | | |
| --- | --- | --- |
| Sr. No. | Chandelier manufacturers and product | Chandelier Price |
| 1. | Harold electricals Logro chandelier | Rs. 69,999.00/- |
| 2. | Jainsons Emporio Regal chandelier | Rs. 638,000.00/- |
| 3. | Philips Chandelier- Chrome | Rs. 17,980/- |
| 4. | TISVA Castillo chandelier | Rs. 4,99,000/- |
| 5. | Havells Ornalite chandelier | Rs. 21,000.00/- |
| 6. | Havells Premium Underlight Ceiling Fan with Chandelier | Rs. 51,990/- |
| 7. | Fanzart Venus Coffee Ceiling Fan with Chandelier | Rs. 29,990.00/- |
| 8. | Usha Fontana Lotus Ceiling Fan with Chandelier | Rs. 7,500.00/- |
| 9. | Orient Electric Subaris Ceiling Fan with Chandelier | Rs. 6,660.00/- |
| 10. | Crompton Nebula Ceiling Fan with Chandelier | Rs. 8,820.00/- |
Our top chandelier recommendations (shop here)
Stello Light Studio Anejo Modern Chandeliers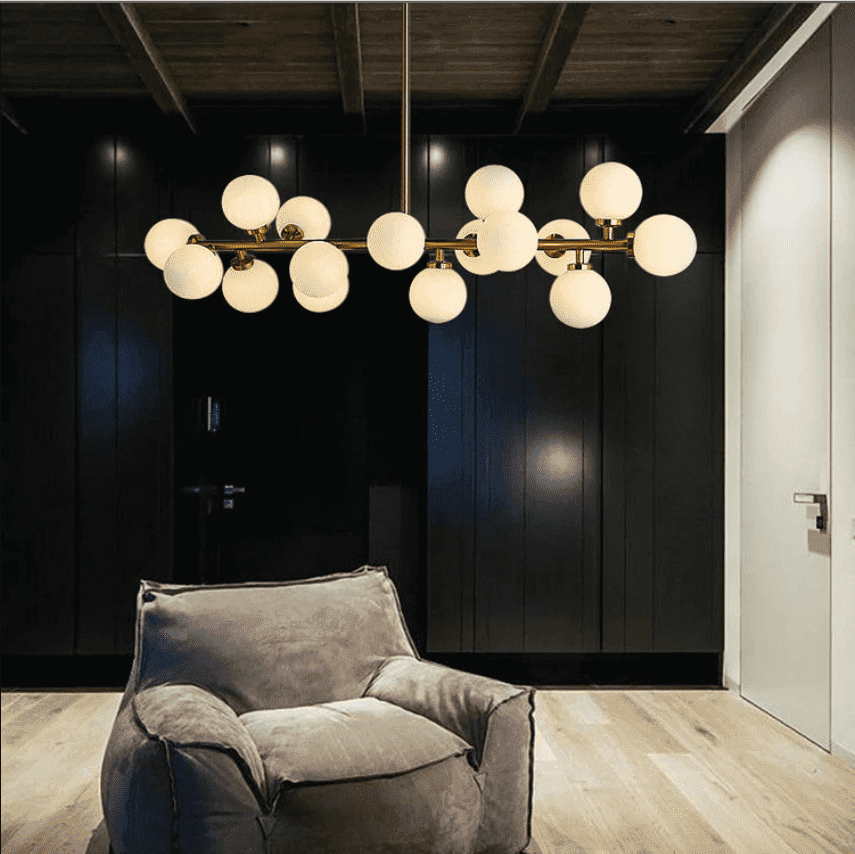 Desert Cart Modern Crystal Chandeliers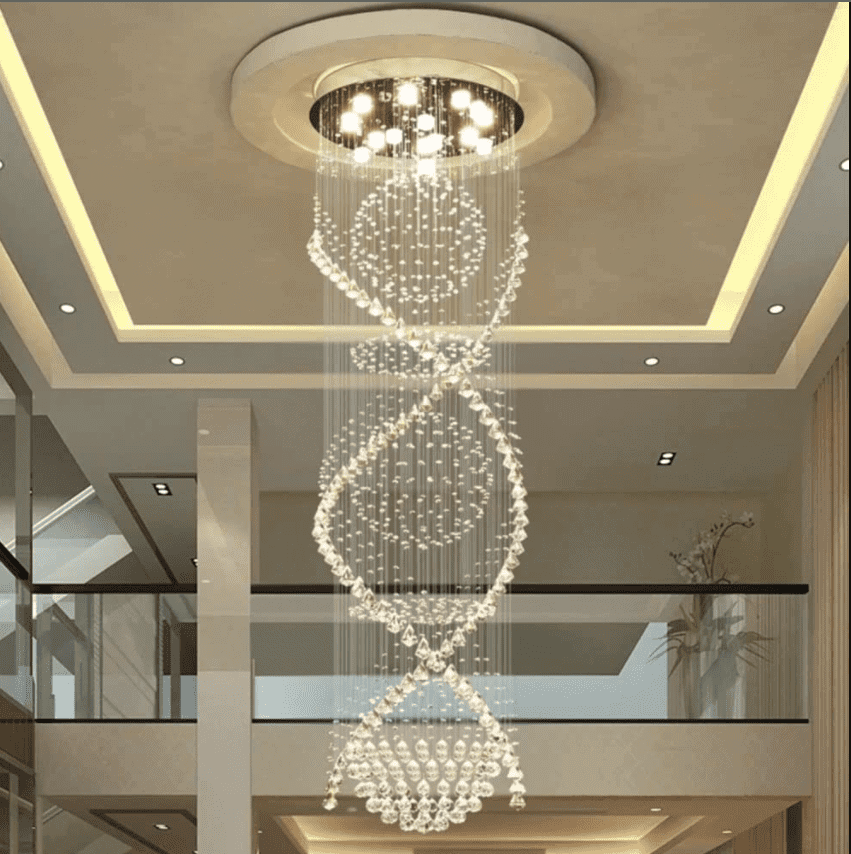 Litfur Elias Contemporary Chandeliers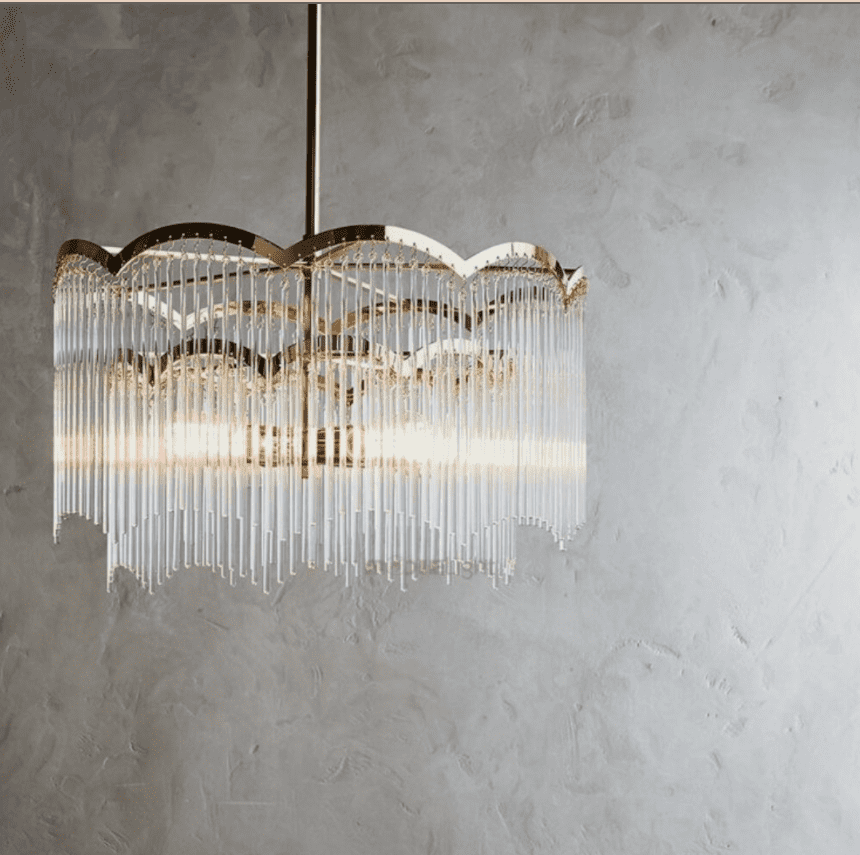 Harold Electricals Carmona Modern Dining Chandeliers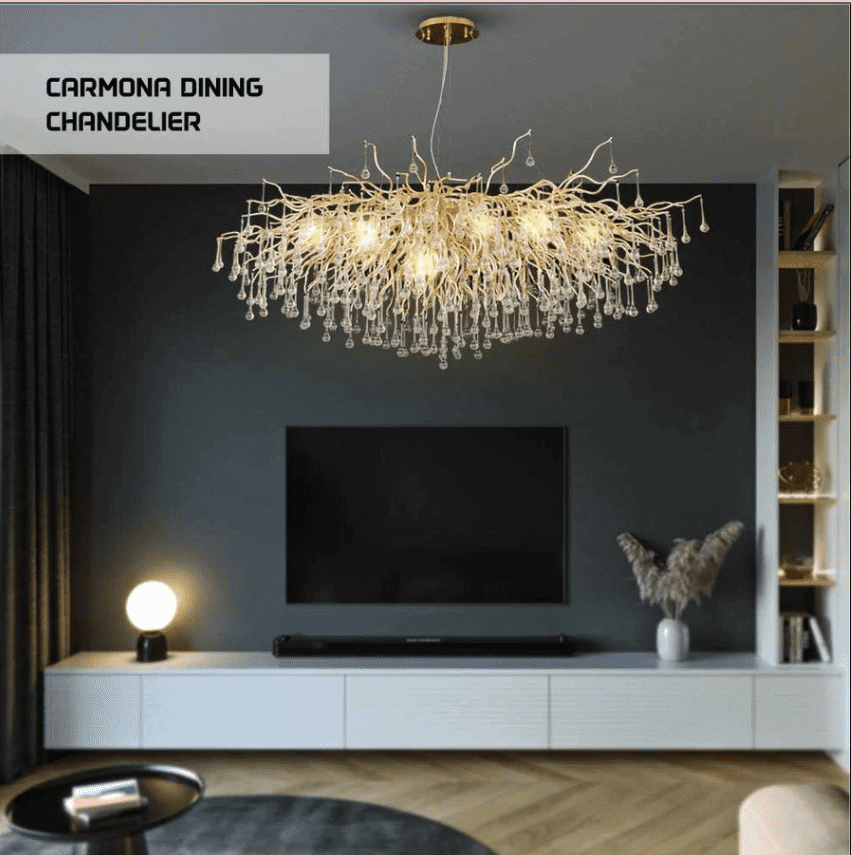 JUBILEE Modern Crystal Chandeliers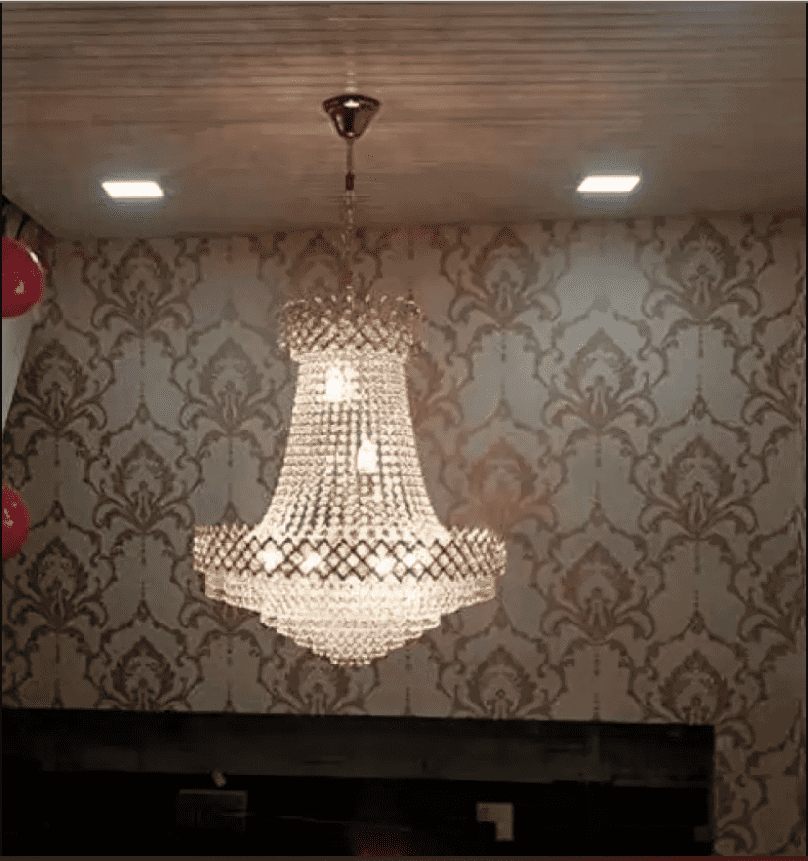 Black Metal Chandeliers

Fandom Lights Gold Glass Cross Crystal LED Chandeliers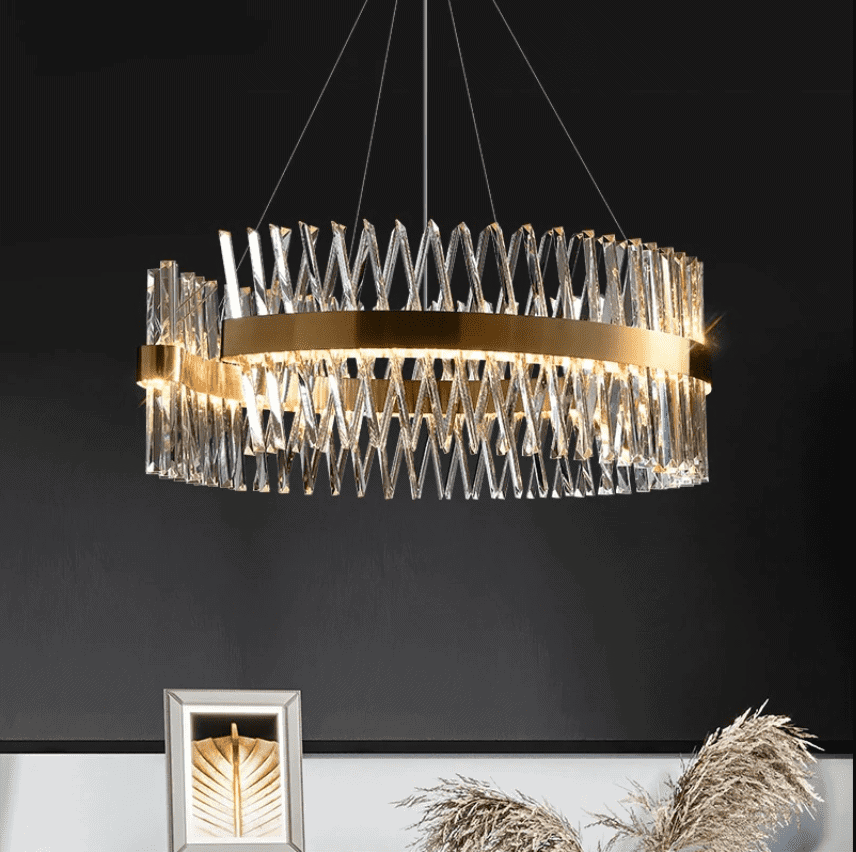 Conclusion
Chandeliers are usually placed at the centre. Also, these decorative hanging lights steal the show without much hassle.
Picking up the best chandeliers is all about understanding their underrated technicalities.
Moreover, to match your chandelier with the interiors of your space, you can choose from a wide range of chandelier designs such as crystal chandeliers, glass chandeliers, modern chandeliers, and much more.
Also, understanding the correct placement and positioning is as important as choosing the best chandelier design. The height of the ceiling and the height of the chandelier must be in accordance with each other.
The different installation areas for chandelier designs come with certain guidelines and limitations which must be followed. So, you must be well-versed with the measurements, design restrictions, etc. of the chandeliers.
All such information benefits the professionals and helps them make the best choice when it comes to choosing the perfect chandeliers for their settings.
If you want to buy top-quality chandeliers from the best brands, click on the link given below to check your options and submit your inquiries:
For more details, contact below:
Email: mukul.jain@buildingandinteriors.com
Mobile: +91 99676 32127
[vvsmustread]