If you're looking to upgrade your security, tower bolts are the perfect solution for you. They are durable and easy-to-install security solutions. These tower bolt locks for doors add finesse to the decor and are available in various materials like aluminium, brass and stainless steel among others. Additionally, these are available in different types like the Concealed tower bolt, Necked tower bolt, Skeleton tower bolt etc.
Designed with holes on the side of the bolt groove, tower bolts are fixed to the doors with the help of drilling machines. You can install them in a way that they add to the overall look and feel of the decor of a home and provide functional value at the same time.
In this article, we have listed the most commonly used bolts, the materials used to make them, their uses, and the best brands that manufacture them. So, if you're looking to buy the best tower bolts available in India, this article is for you.
If you want to buy top-quality door fittings and hardware at wholesale price from the best brands, click here:
For more details, contact below:
Email: mukul.jain@buildingandinteriors.com
Mobile: +91 99676 32127
What are tower bolts?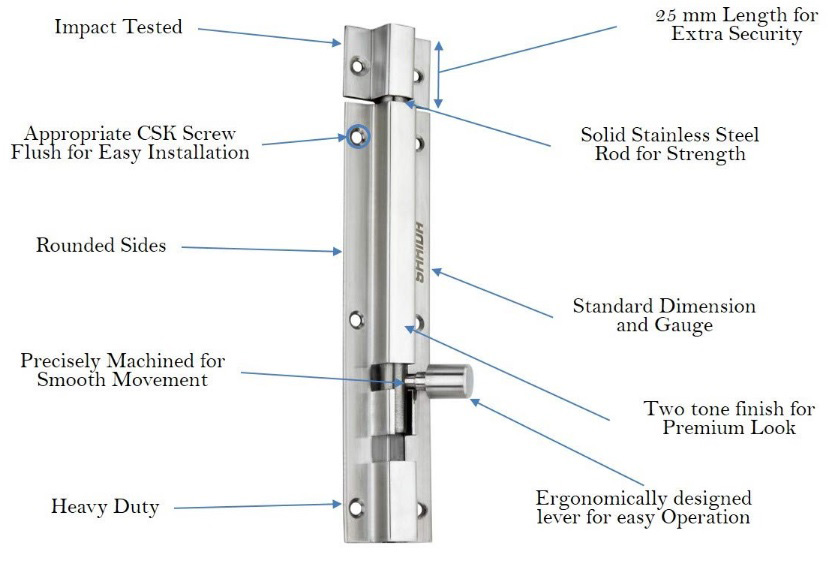 Image Source: Shrida Udyog
Rod-shaped bolts used for fastening doors are known as tower bolts. These slide into cylindrical casings attached to the edge of door frames. One of the most commonly used accessories for households, tower bolts help in locking homes and offices to protect and keep everyone out of danger. It is essential that you get the correct latch that is sturdy and strong so that you can lock up your valuables without any worries. Super reliable, high-quality tower bolts don't rust or jam for years. Also, these work smoothly on a variety of doors and are easy to use as they don't involve complicated mechanisms.
Materials used for tower bolts 
Image Source: Pine Hardware
Tower bolts are generally made using stainless steel, aluminium, copper, brass, nickel, and mild steel. The materials used to make these bolts are mostly anti-corrosive to ensure that they can be fixed in different areas like bedrooms, bathrooms, garage doors, basements, etc. These are also available in a wide range of finishes like matte black, antique brass, satin, polished chrome, and antique copper.
Types of tower bolts for doors
Barrel Tower bolt
Image Source: Atom
A Barrel tower bolt, also known as a Shoot Bolt or Sliding Bolt is a locking system used to fasten a door from a single side. The bolt is chiefly made of two main parts, a catch plate, and a sliding metal bar. The catch plate is fixed on the door frame and the sliding metal bar is aligned in a way that it can fit into the catch plate, to block the door from being opened. These are low-cost security solutions when a keyed locking system is not required. 
Skeleton Tower bolts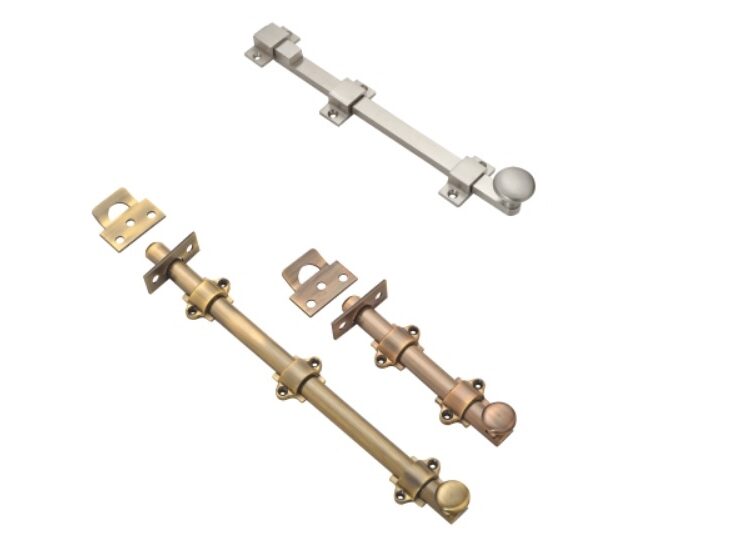 Image Source: Chetna Hardware
Skeleton bolts are known for their strength and durability compared to regular bolts. These single-action bolts are supported by a spring which keeps the bolt fixed in an extended position. Used mostly for the inactive leaf of the double doors, these bolts are available in stainless steel, silver, nickel, and brass. Suitable for metal and timber doors, and gates of commercial, residential and industrial buildings, Skeleton bolts are available in both visible and concealed varieties.
Necked tower bolt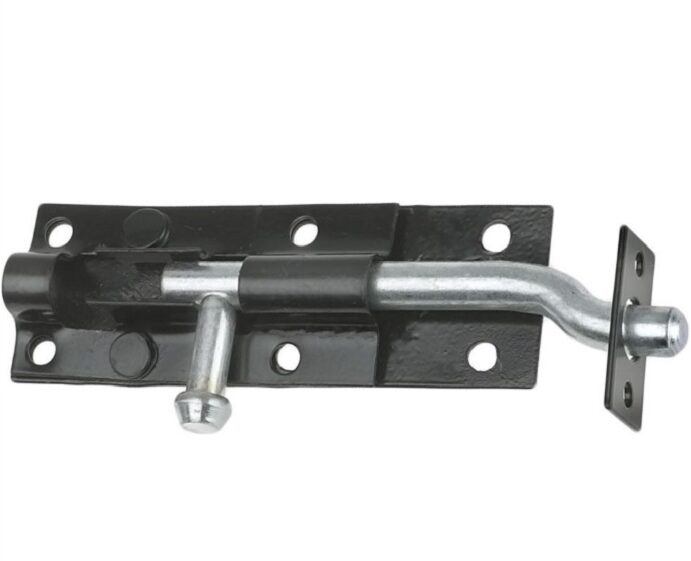 Image Source: E Hardware
A cranked bolt, the Necked tower bolt is used chiefly for doors with recessed frames and double doors. They can be fixed vertically as well as horizontally, making them an ideal choice for cupboards and garden shed doors. The Necked bolt generally uses a flat plate and the bolt needs to be twisted to be opened, which provides extra safety to the user.
Enclosed tower bolt
Image Source: Perry
Used around the house, the enclosed tower bolts are lightweight standard security solutions. These are ideal for sheds, and cupboards and provide additional security for domestic doors. Abrasion resistant and strong, these also are installed both horizontally and vertically to prevent access to potentially harmful areas. These are generally available in galvanised and matte black finish and made of stainless steel. 
Concealed tower bolt or Flush bolt
Image Source: Klaxon
Also known as Flushbolts and Concealed Flush bolts, the Concealed tower bolts are quality devices that are shock-resistant. These bolts are fitted inside the body of the doors, which makes them invisible to the eye. Popular for their unique design, these provide effective locking solutions for doors and windows. Also, these can be fixed both vertically and horizontally on metal and wooden doors. Many different types of concealed tower bolt locks are available in the market, some of the common ones are:
Spring Latch

Cam Lock

Slam Latch

Electronic Cam Lock

Suffolk Latch

Norfolk latch

Crossbar

Cabin Hook

Toggle Latch
Automatic bolt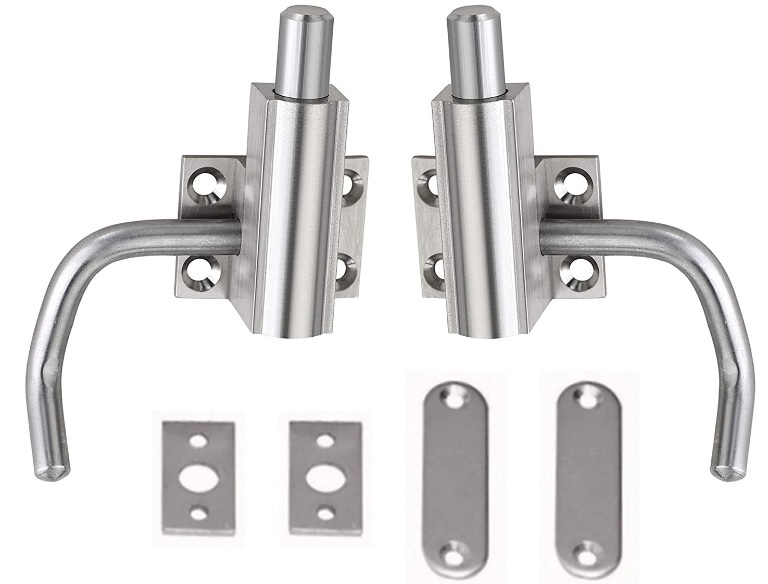 Image Source: Atlantic
Used for double doors, cabinets, and cupboards among others, the automatic bolts are rust and corrosion-proof. The casing of the bolt is screw-mounted and fixed under the top panel. The catches of the bolt hook to the top of both doors. As the catches hook to the doors, the left-sided door is held in place and locked to the right-sided door. The doors are then unlocked by pressing the door on the right side. These premium and trendy designs are generally made of stainless steel and brass and are available in different finishes like nickel and chrome-plated.
Top brands for tower bolts with images (Enquire here)
 #1-Harrison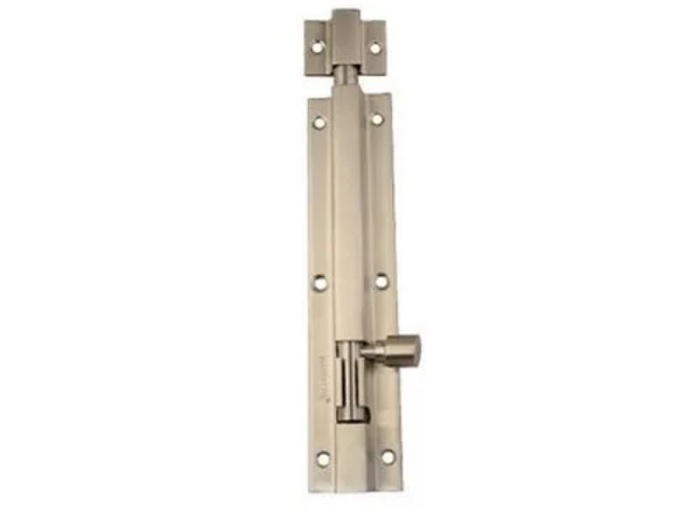 #2-Ozone India 
 #3-Hettich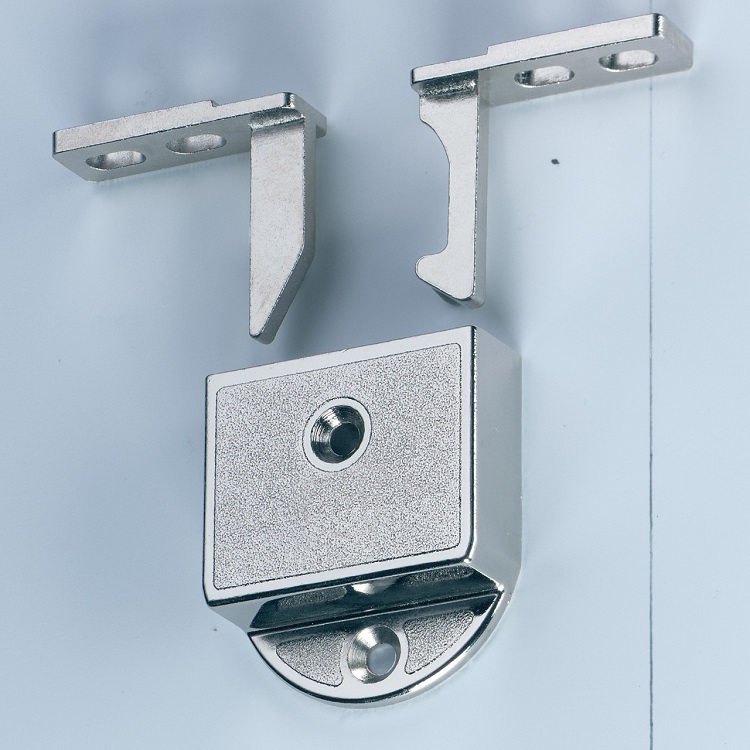 #4-Hafele 
#5-Dormakaba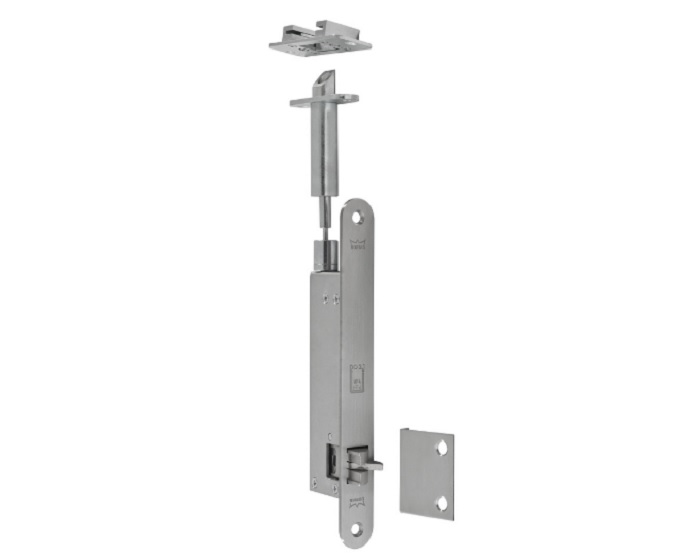 #6-Godrej 
#7-Suzusteel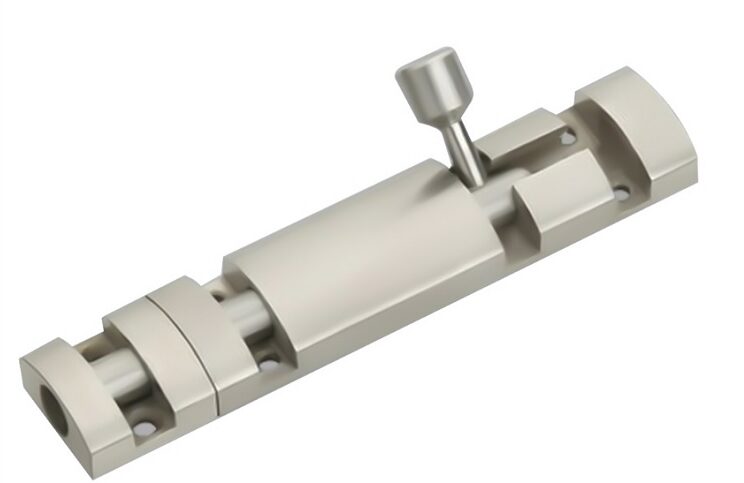 #8-Hardwyn 
 #9-Dorset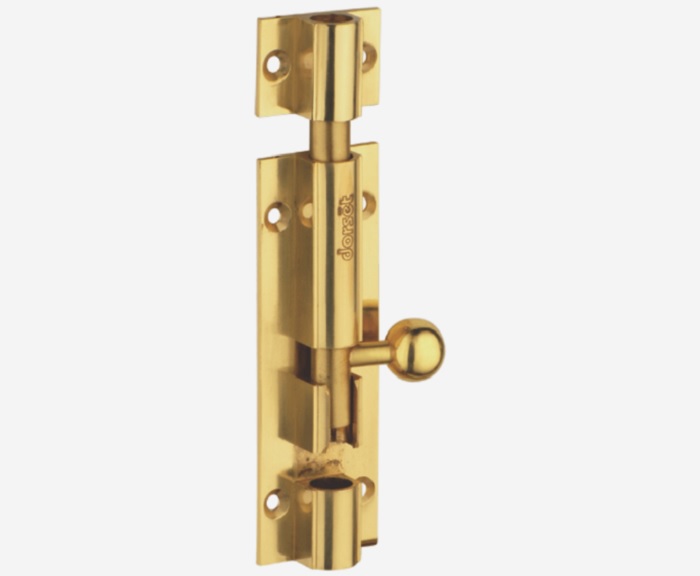 If you want to buy top-quality door fittings and hardware at wholesale price from the best brands, click here:
For more details, contact below:
Email: mukul.jain@buildingandinteriors.com
Mobile: +91 99676 32127
Conclusion
Whether you choose aluminium or a stainless steel tower bolt, it is essential that you invest in a good quality lock. Durable and strong, these offer cost-effective security solutions for your doors and windows. These bolts are vital for everyone's safety and help in keeping intruders away. Moreover, these are available in many different designs and styles making them ideal decor accessories. Being rust-resistant these bolts are generally suitable for both internal and external doors.
Now, you know all about how tower bolts upgrade the security of a house and add to the interior design. So, go ahead and send in your enquiries to buy the best tower bolts from top brands in India.
*The featured image used in this article is from The Anvil
[vvsmustread]