False ceiling trends have witnessed a major evolution in the last few decades. From plain ceilings to designer false ceilings, we have come a long way. A relatively newer addition to this journey is the PVC false ceiling designs. PVC false ceiling designs offer a great deal of versatility and flexibility in terms of sheets and panels, and cost among several other benefits. However, due to the lack of comprehensive information, designer PVC ceilings have not gained a lot of popularity.
Therefore, we have come up with a detailed guide on PVC ceiling designs.
What are PVC false ceilings?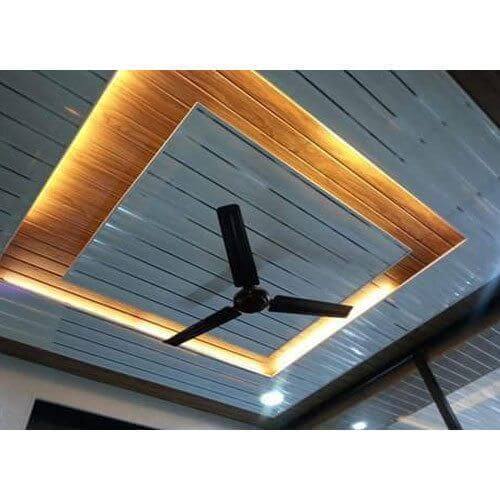 Polyvinyl chloride or PVC is a strong, factory-manufactured, lightweight plastic material. PVC ceiling panels come in various shapes, designs, colours, and lengths. The designer PVC ceiling panels have a hollow core and a shiny, smooth exterior.
Although PVC flooring trends have gained wide recognition, PVC false ceilings design materials still remain not a very popular ceiling solution. Most professionals stay oblivious to the advantages of designer PVC ceiling designs.
This is why designer PVC ceiling materials remain underrated.
Therefore, this article aims to throw light on the advantages of designer PVC ceiling materials so that you can make the most appropriate choice.
What are the pros and cons of PVC false ceilings materials?
#Pros 1: High durability
PVC ceiling panels last for years without bending or warping. The highly durable and sturdy PVC ceiling material does not get brittle with time. In addition to that, it is less likely to get damaged while installation.
#Pros 2: Easy installation of PVC false ceilings 
Designer PVC ceiling panels installation is extremely easy. Moreover, the clean installation process doesn't make the room dusty and dirty. In addition to that, you can cut and trim the designer PVC ceilings without great difficulty and mess.
The stylish PVC ceiling panels are installed and fitted using invisible screws.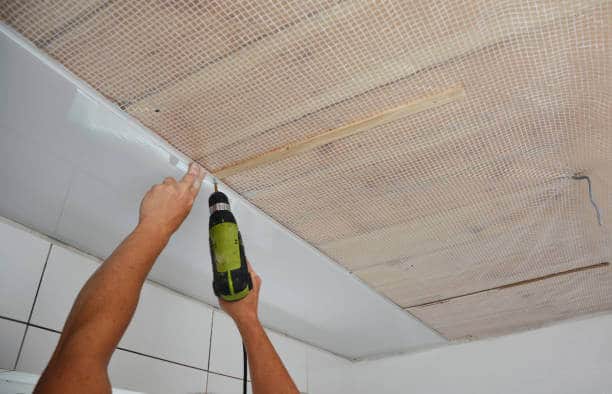 #Pros 3: Easy maintenance of PVC false ceilings 
Designer PVC ceiling panels not only come with easy installation but also offer easy maintenance. Easy cleaning and maintenance remain a major reason for PVC to stay an ideal flooring choice.
Moreover, the designer PVC ceiling panels do not need any varnishing, special coatings, or painting for routine maintenance.
On the contrary, all these panels need is a quick wipe with a clean, damp cloth, time and again.
Additionally, you can use household cleaners to wipe the designer PVC ceiling panels every now and then to keep them new and shiny.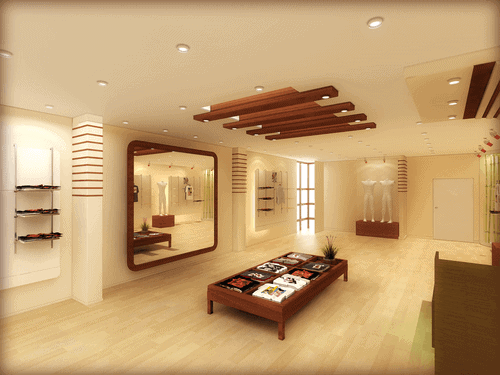 #Pro 4: Light-weighted PVC false ceilings 
PVC ceiling panels are one of the lightest designer ceiling materials. As a result, it becomes extremely easy to handle, transport, and install them.
The waterproof designer PVC ceiling materials do not absorb water. Hence, they eliminate the dampness from rooms and do not allow mildew and mould growths.
It is extremely easy to detach designer PVC ceiling panels. These panels are drilled into the frame using screws. Therefore, you can feasibly unscrew them if the need arises.
#Pro 7: Termite-proof and Fire-retardant
Unlike actual wooden false ceiling materials, the designer PVC ceiling materials remain unaffected by termite attacks. Moreover, they control the spread of fire with their insulating properties.
#Pro 8: Cost-effective PVC false ceilings 
PVC false ceiling sheet cost is relatively quite reasonable. The designer PVC ceilings price list range increases with additional elements and surface treatments.
The basic cost of PVC false ceiling sheet by two major brands-
Armstrong PVC False Ceiling Rate Range: 100-140 rs. per square feet
USG Boral PVC False Ceiling Price: Rs 95/square feet
The price of false ceiling / false ceiling price (PVC) after various surface treatments-
| | | |
| --- | --- | --- |
| Surface Treatment | Min Price | Max Price |
| Coated | Rs 45/Square Feet | Rs 95/Square Feet |
| Color Coated | Rs 38/Square Feet | Rs 120/Square Feet |
| Film Coated | Rs 32/Square Feet | Rs 125/Square Feet |
| Galvanised | Rs 60/Square Feet | Rs 100/Square Feet |
| | | |
The normally available dimensions of PVC material for designer ceiling-
Width: 10 inches- 12 inches
Length: 9 feet, 10 feet, and 12 feet
Plastic Look
The designer PVC ceiling panels give a plastic look that might not suit the taste of some people. However, you can get away with this issue quite easily.
Simple give a surface treatment to the designer PVC ceiling panel and get the desired look and designer ceiling colour of the PVC ceiling design.
Less resistance to heat
Designer PVC ceiling materials do not make an ideal choice for outdoor ceilings. The reason is that they get damaged when exposed to high heat.
However, you can use them comfortably indoors and with energy-efficient LED false ceiling lighting.
Chlorine gas release proves toxic. Therefore, avoid using  PVC ceiling materials in kitchens.
One of the best things about designer PVC ceiling material is its versatility. It can be used in multiple ways to decorate your designer ceiling.
You can use the following designer PVC ceiling designs to decorate your place:
Instead of covering the whole ceiling with PVC, you can suspend a minimalistic panel and fix a fan or some decorative lights on it. The PVC ceiling design for hall will give an aesthetic appeal to the room.
Luxury PVC false ceiling design for bathrooms
In order to give your designer ceiling for the bathroom a lavish look, you can use designer PVC ceiling material in it. Furthermore, you can also use PVC flooring or PVC walls in different colour schemes to give a uniform feel to the bathroom.
You can replicate the wooden feel in your bedroom by using wood-colored designer PVC ceiling panels. Moreover, contrast the PVC ceilings bedroom in a wooden texture with bright LED lights to break the monotony.
Additionally, you can also use the wooden textured designer PVC ceiling design for hall.
Read this article on false ceilings for bedrooms for more ideas.
If you are big on geometrical shapes, which are also greatly in trend these days, use designer PVC ceiling designs. Moreover, the material is easy to cut. Therefore, you can get your desired shape easily.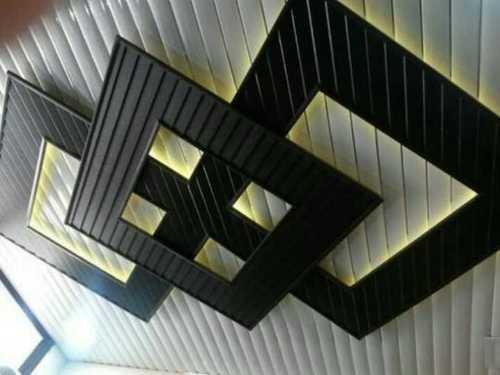 Use PVC cornices to unite modernity with tradition
Most Indian houses have cornices on their ceilings. However, earlier, only POP was used to make these cornices. But you can get more durable and easy cornices in the form of PVC. As a result, your designer PVC ceilings design for the hall will look aesthetic as well as remove the challenges of POP.
Comparison between PVC false ceilings, Pop false ceilings, and Gypsum false ceilings
There are plenty of false ceiling solutions in the market. However, the best interior designer would always go for the best false ceiling material.
Moreover, one material might be good for one purpose but not the best choice for something else.
Therefore, it becomes essential to understand the difference between them.
The most commonly used false ceiling materials are PVC, POP and Gypsum.
Let us go through the specifications of each:
Please include attribution to https://buildingandinteriors.com/ with this graphic.

Facebook  |   Twitter    |      Pinterest    |     Linkedin    |     Email
Final Verdict
PVC ceilings prove ideal ceiling solutions for commercial and residential spaces such as offices, stores, garages, toilets, living rooms, bedrooms, and halls. Additionally, designer PVC ceiling panels are a cost-effective alternative to the more expensive gypsum ceiling panels.
In addition to that, it is easy to main these lightweight and moisture-resistant ceiling materials. Although high temperature affects them they remain unaffected by UV rays. Therefore, if you live in a relatively colder region, you can use the material outdoors very conveniently.
Moreover, the design flexibility offered by the material is paramount and refreshing.
PVC ceilings make good ceiling solutions. Thus, this article has specified all the key points related to the advantages, challenges, applications, and PVC false ceiling designs.
Additionally, a detailed comparison table describes the installation, application, pricing, and other details of PVC, POP, and Gypsum ceiling materials.
All this information will help you make the right decision for false ceiling solutions.
PVC false ceilings exclusive gallery 
If you want to buy top-quality ceiling solutions from the best brands, click on the link given below to check your options and submit your inquiries:
For more details, contact below:
Email: mukul.jain@buildingandinteriors.com
Mobile: +91 99676 32127
[vvsmustread]