Electrical instruments are kinds of gadgets that use electrical energy to accomplish the purpose of our daily lives. Home appliances have made our lives more comfortable because of electrical energy, else we could have invested more time and effort. A list of electrical appliances may be operated indoor or outdoor, remote or portable, hand-held or computer-controlled. Few electrical appliances name are microwave ovens, toasters, water heaters et cetera that can be available in shops near you.
Home appliances have made our life comfortable by simplifying the process and also saving our time.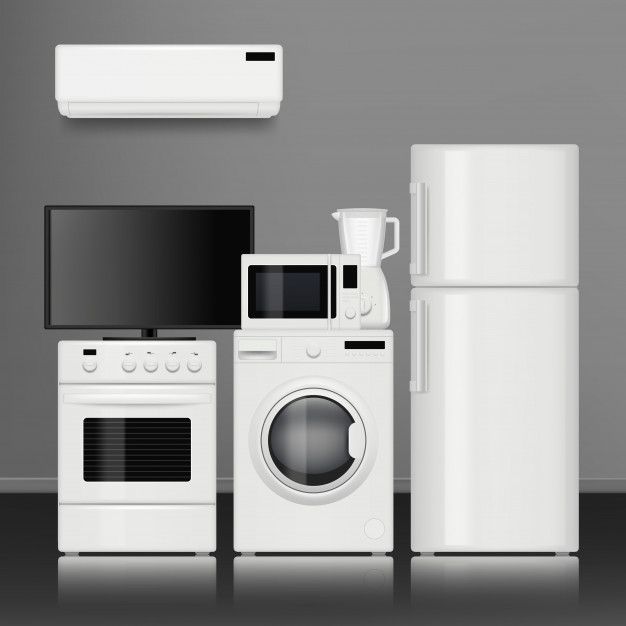 Image Source: Pinterest
List of electrical appliances
Ceiling fan
geyser/water heater
Vacuum cleaner
Washing machine
Room heater
Generator
Air purifier
Humidifier
Air conditioner
Smart garbage disposal
How to choose the right Home appliance
Consider a reputed brand
There are varieties of electrical instrument brands in the market. When you want to buy any home gadgets choose a known brand. This gives you the confidence to buy and you can also check electrical appliances shops near me of a good brand and save your time.
Buy electrical devices with ready spare parts
There are some variations in the devices while manufacturing according to the regions. So it is advisable to buy electric instruments with ready spare parts. Always have a list of repair shops near you for electrical instruments.
Cost and warranty must be checked
Make a good research on the price of electrical devices before buying them. For better knowledge call us and select the right electric appliances for your home. A valid warranty is essential for all electrical devices.
The space matters
whenever you are buying a home appliance make sure of the space that fits in and measure its height, width and depth correctly. This ensures a spacious and appealing home
Budget is important
Know your budget and then fit an electrical appliance. Make a list of electrical appliances you need for your home, have knowledge about them and then prepare a budget accordingly.
Electrical device brands in India
Crompton
Havells
Polycab
Usha
Orient
Racold
Jaquar
AO Smith
Today every home appliance are powered by electrical energy for more convenience. Electrical instruments are essential for our daily lives and the names of electrical appliances which play a major part in our homes are fans, air conditioners, washing machines et cetera. Contact us now to buy electrical devices for your home.
Electrical Appliances Subcategories
---
Electrical Appliances Products