Home interiors are completed without a nice ceiling. Therefore, the ceiling, or fifth wall, is rapidly gaining traction. False ceiling designs have been around for a long time, but they are making a comeback in terms of patterns, finishes, technology, and illusions. The cost of false ceilings & materials largely depends upon the material (POP, PVC, wood, gypsum, etc.) they are made up of.
A false ceiling is a faux roofing feature that seeks to improve the aesthetic appeal of an architectural structure in basic terms. It's a fitted ceiling that hangs below a room's or home's original ceiling. Creating the illusion of a lower ceiling, it is normally suspended by wooden or metal frames.
These are typically installed at a distance of at least 8 inches from the original ceiling. They are adaptable enough to fit into any home.
A false ceiling provides insulation, acoustics, soundproofing, illumination, and the illusion of a reduced ceiling height, in addition to being aesthetically pleasing. A drop ceiling, suspended ceiling, grid ceiling, or T-bar ceiling are all terms used to describe a false ceiling.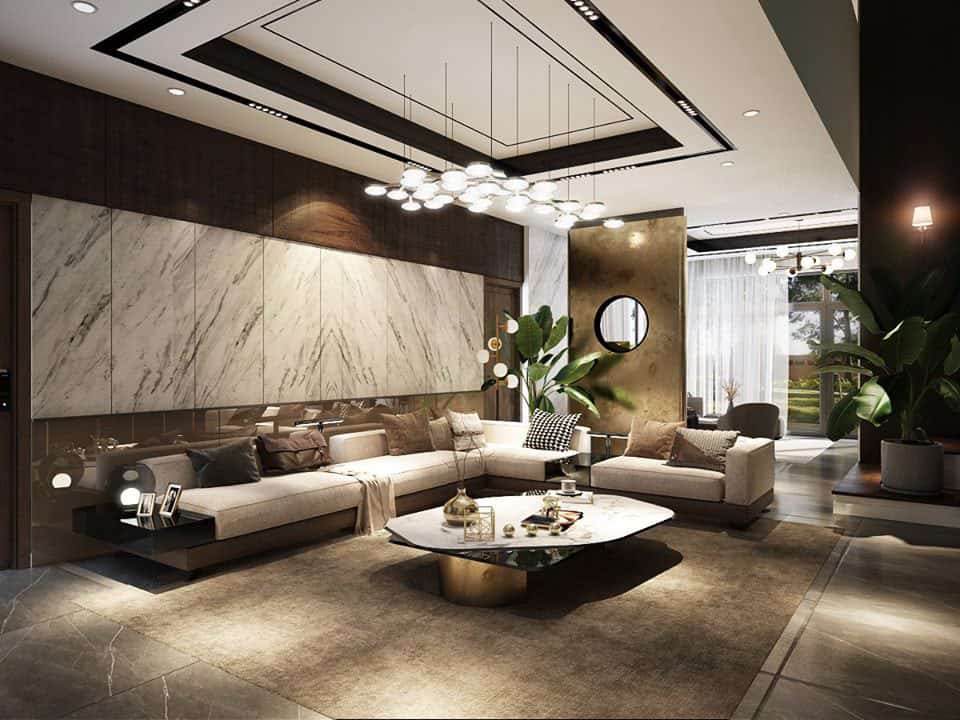 Image Source: behance.net
Gypsum is a calcium derivative used in the manufacture of lightweight ceilings. They are normally made from boards hung from the ceiling using iron or wooden frames and then painted. Ceilings made of gypsum are pre-designed. Easily install the artificial ceiling once the appropriate shape, size, and design are determined. It has a flawless, smooth surface and is excellent for absorbing heat and noise.
POP is made by heating gypsum, which is then mixed with water to make a paste. Unlike a gypsum ceiling, mould the POP ceiling into any shape. It is vital to remember that it is far less expensive than Gypsum.
Building a POP faux ceiling, on the other hand, is a time-consuming procedure. The paste is made first, followed by the design, which can take weeks to dry. They are durable and well-insulated, even in a variety of weather conditions.
Polyvinyl Chloride is a synthetic material that is used to make a variety of items that are resistant to water, heat, and wear. PVC ceilings are commonly found in restrooms, kitchens, garages, and other locations. They are light in weight, easy to maintain, and cost little money.
Wood is a perfect blend of the classic and the contemporary. Because wood offers a wide choice of patterns and motifs, a wooden ceiling enhances the aesthetic appeal of any room. It takes care of the acoustics as well. Purchase some opulent pendant lights for the ceiling, and you will have a home that appears like something out of a movie. Artificial wood ceilings, on the other hand, are more expensive and less lasting than gypsum or POP ceilings.
It's a little more expensive, which is why you'll see it in residential buildings rather than large-scale commercial projects.
Ceilings made of fibre appear as tiles. Wood, stone, and other natural and synthetic materials are used to make them. These artificial ceilings are sturdy, long-lasting, cost-effective, and heat as well as noise resistant.
Fibre ceilings are utilized in commercial spaces and buildings due to their ability to reduce heat and noise, as well as their low cost.
False ceilings made of metal are also frequent in homes. Because of their longevity, strength, and capacity to absorb noise, they are made of aluminium and galvanized iron. Metal ceilings are very easy to maintain and come in a variety of patterns as well as shapes. It also has an antique appearance. But, faux metal ceilings are more expensive than gypsum or POP ceilings.
When determining the cost of a false ceiling per square foot, several factors come into play, like:
1. Design
2. Size
3. Quality
4. Availability
5. Extra cost
2. Armstrong
3. USG Boral
4. Gypcore
6. Durlum
---